Overview
Itinerary
Locations
Gallery
Booking
Experience the heartland of Japan and meet its people in the fishing villages of Susa and Esaki, as well as the rural settlements of Ogawa and Yadomi.
Walk a portion of the Hagi O-kan Highway, a circuit once traversed by the samurai.
Explore the exceptionally well-preserved city of Hagi.
Examine the history of Shinto, Buddhism and Christianity in the city of Tsuwano.
Board a squid fishing vessel manned by a local fisherman.
Enter the world of Japanese mythology and enjoy a dynamic performance Iwami Kagura, a flamboyant and traditional Japanese art of storytelling.
---
Fitness: ★★★  Skill: ●●●
---
The Tsuwano and Hagi O-kan Highway tour is a breathtaking journey across Japan's Chugoku region, which is located on the western part of the main island of Honshu. Five prefectures; Hiroshima, Okayama, Shimane, Tottori, and Yamaguchi comprise the Chugoku region. This tour will take you between Shimane and Yamaguchi Prefectures. By visiting towns and villages that are seemingly frozen in time, virtually unchanged over a course of centuries, we will experience the rich and unique history of Japan and this region.
The Tsuwano and Hagi O-kan Highway tour is a fully guided tour, suitable for anyone who can walk for more than 5 to 10km in comfort. This 7 day, 6 night tour starts in the town of Shin-Yamaguchi and ends in the hot springs town of Yuda Onsen. Your tour accommodation will include hotels, Japanese inns (ryokans), as well as quaint cabins at Susa Wan Ecology Camping Ground. The maximum group size for this tour is 12 persons. The minimum group size for this tour is 4 persons.
The Chugoku region is naturally divided by the Chugoku Mountains. The northern part that faces the Sea of Japan is known as San'in, or "the shaded side of the mountain", while San'you denotes the side of the mountains blessed by the sun's rays. Together, the expansive Sea of Japan coastline in San'in, with the sun of the San'you region, give birth to an area that is abundant in natural resources despite its rather mountainous terrain.
Our tour begins with a taste of authentic life in the heartland of Japan, in the scenic village of Susa. From here you will walk in the footsteps of samurai and traverse a portion of the historical Hagi O-kan Highway. Before the tour culminates in Yamaguchi, the peaceful capital of Yamaguchi Prefecture, you will be in awe at the "open-air museum" city of Hagi and explore the fusion between Eastern and Western religions in the city of Tsuwano.
Hagi is the cradle of the Choshu Domain, a feudal domain that occupied all of present day Yamaguchi Prefecture and fought against the shogunate in the late Edo period. Under the teachings at Shouka Sonjuku, an institution specializing in military arts and politics, revolutionaries ushered in the Meiji Restoration, a political movement that returned political rule to the Japanese emperor. With this dynamic background, is it any wonder that Hagi is the birthplace of three Japanese prime ministers? As a matter of fact, Yamaguchi Prefecture as a whole is home to eight Japanese prime ministers, a testament to its political influence!
Tsuwano boasts a spiritual history which is reflected in its many places of worship. Taiko Dani Inari Shrine, Youmei-ji Temple, Tsuwano Catholic Church and Maria Chapel are a few highlights in this city representing the intersectionality of Shinto, Buddhism, and Christianity.
You will also explore portions of the Kita-Nagato Kaigan Quasi-National Park, which stretches from Susa to Hagi. The area is protected for its natural beauty and pristine coastline, which is accented with volcanic activity that lends to the unique and dynamic features of the landscape. At Kikugahama, a secluded beach on the Sea of Japan famed for its pristine white sands and evergreen trees, you will be treated to a truly unforgettable sunset.
This tour will also take you on a portion of the Hagi O-kan Highway, offering a truly unique opportunity to follow in the footsteps of samurai and Meiji revolutionaries. The Hagi O-kan Highway is a 53 kilometer long circuit that links the San'you and San'in areas of Chugoku. Stretching from Hagi on the Sea of Japan in the north to the port of Mitajiri in Hofu City, the Hagi O-kan Highway was heavily traveled by Meji nationalists during the final years of the Edo period. Allow yourself to take in the history of one of Japan's most dynamic periods and relive the days of feudal Japan.
Day 1, Hiroshima – Shin-Yamaguchi – Susa
The tour will start at Hiroshima Station -meet in front of  shinkansen (bullet train) ticket barrier on the 2nd floor – where the group will take a shinkansen to Shin Yamaguchi Station. From Shin Yamaguchi the group will travers the Chugoku Mountains with a 90 minute bus ride. 
The bus will take you from the San'you side of the mountain range to our destination of Susa, a tiny fishing village in the San'in region. Thus our journey begins near the border of Shimane Prefecture.
En route to Susa, we will pass Hagi, a city of great historical importance which will be thoroughly explored on fifth and sixth day of this tour. We will also enjoy a scenic 40 minute drive along a portion of the Sea of Japan coastline, designated as Kita-Nagato Kaigan Quasi-National Park. Take a sunset stroll along the pristine beach on the grounds of Susa Wan Ecology Camping Ground, and be memorized by the magnificent views of the sea in its natural beauty, all accented by crepuscular rays.
Later that evening, we head to Tamagawa Hot Springs to experience the therapeutic Japanese custom of public bathing in a natural hot spring. Once you have refreshed, the tour group will dine at the famed "Ume no Hana", a restaurant that attracts diners from as far away as Hiroshima and the region of Kyushu. After dinner we will return to Susa Wan Ecology Camping Ground to end your first day in San'in. Accommodation: Cabin.
Accommodation: Cabin.
Meals: Dinner provided.
Total walking: N/A.
Total elevation gain: N/A
Day 2, Susa – Esaki – Ogawa – Susa
After breakfast we will head to the adjacent fishing village Esaki, for a leisurely walk around its bay. Here we take in the sight of boats docked in the shining emerald green harbor.
We will then head to Rokkakudo, the hexagonal hall of Saido-ji Temple built in the early 15th century. A Yamaguchi Prefecture Designated Cultural Property, the Rokkakudo is a rarity as the only one of two in existence. Before eating lunch at a local restaurant, we will take another leisurely stroll, this time on a slightly elevated hilly promenade along the coastline. Lunch will be at a local restaurant. Afterwards we will head to a secluded beach for a low impact trek.
This beach excursion will be followed up with a visit to the settlement town of Ogawa, home of the Sumikawa Brewery. This award winning sake (Japanese rice wine) brewery is renowned for its premium sake "Toyou Bijin" (Beautiful Lady of the Orient). This sake was served at the 2008 G8 Summit. You will be able to tour the facilities as well as sample this globally renowned drink. Basked in the afterglow of Toyou Bijin we will return to Esaki then Tamagawa Hot Springs, before enjoying dinner at Yuen restaurant.
Accommodation: Cabin.
Meals: Breakfast, lunch and dinner included.
Total walking: 4km (2.5 miles) / 3 hours.
Total elevation gain: 50m (164ft).
Day 3, Susa – Yadomi – Tsuwano
After breakfast we will trek out to Mount Kouyama, which stands 533 meters high on a cape jutting out into the Sea of Japan. Perched on the summit of Mt. Kouyama is Koutei-sha, a Shinto shrine and the destination of our morning journey. Also found on the summit of Mt. Kouyama is a bolder with ancient history. It is known for its peculiar magnetic properties which are strong enough to interference with a compass. Take a moment to enjoy the beautiful panoramic view of Susa, affectionately called the "Matsushima of the West". This nickname came about because of its striking similarity to one of Japan's Three Great Views, the bay of Matsushima and its pine-clad islands.
Upon our return to Susa Bay, we will board a squid fishing vessel manned by a local fisherman. Our guide will take us along the Sea of Japan, to the northern boundary of the Kita-Nagato Kaigan Quasi-National Park. Here we will observe the natural beauty of Japan.
After disembarking we will have lunch at a local ryokan, a Japanese inn, before heading off for our afternoon trek. With two large boulders known as kabuto (helmet) and yoroi (armor) as our starting point, we will trek to the Susa Hornfels. This designated Japanese Natural Monument is one of the Top 100 Geological Features of Japan. You will be mesmerized by the sheer beauty of these precipitous cliffs. With their stripes of white, black and grey, how they contrast beautifully against the azure Sea of Japan, it is no wonder there reputation.
Later, we will head to the settlement town of Yadomi to observe another peculiar geological formation. Called Tatami Ga Fuchi, these turtle-shell like stones are hexagonal columns of rock running parallel to the riverbank in an orderly fashion. Look closely through the cracks and you will see a crystal clear stream flowing underneath. Our day will end with dinner in Tsuwano, where we will enjoy an enchanting night in the historic castle town.
Accommodation: Japanese inn.
Meals: Breakfast, lunch and dinner included.
Total walking: 3km (1.9 miles) / 3 hours.
Total elevation gain: 286m (938ft).
Day 4, Tsuwano
Our day starts with a visit to Taikodani Inari Shrine. Here we find one thousand vermilion torii gates, creating a 300 meter long tunnel over a series of stairs dedicated to the shrine's patrons. From Taikodani Inari Shrine, we will take the chair-lift to the ruins of Tsuwano Castle, which is located on a 380 meter high mountain in the southern end of Tsuwano city. Though the castle now lies in ruins, it is not hard to imagine the expense of its glory days, protected by a fortified mountain. Observe the vast expanse of the city stretching over 3 kilometers in steep valley below.
After Tsuwano Castle we will return to the base of Taikodani Inari Shrine. From here our next trek will be on a flat road leading us on a path where we will encounter Tsuwano Catholic Church, Otome Pass, and Youmeji Temple. Once we have re-energized over lunch, our next destination is to Shusuien Tea Stall. On this plantation is produced a special variety of tea known as mame. Mame tea was once consumed for its medicinal and healing properties, but is now regularly consumed by the residents of Tsuwano for its flavour. You will be able to explore the tea plantation and observe the production process, as well as sample it for yourself.
In the evening we will return to the area near Taikodani Inari Shrine. Here we will enjoy our dinner of soba (buckwheat noodles), a local specialty. Afterwards we will enjoy a performance of iwami kagura, a vibrant and traditional Japanese theatrical dance frequented by the locals.When it comes to traditional performing arts, certainly kyougen, kabuki or noh may come to mind, but kagura is actually the oldest performance art in Japan. Even if you are not familiar with the tales depicted in the performance, your heart will dance throughout the show, sweeping you away into the world of Japanese mythology.
Accommodation: Japanese inn.
Meals: Breakfast, lunch and dinner included.
Total walking: 5km (3.1 miles) / 4 hours.
Total elevation gain: 357m (1171ft).
Day 5, Tsuwano – Hagi
Tsuwano, Hagi
On this day we will head out to Kasayama in Hagi, home of Hagi Glass Art Studio, the sole manufacturer of Hagi glassware. Hagi Glass Art Studio stands out from other places that manufacture glass as it consistently uses ore made from the volcanic rock andesite in the production process. Afterwards, we will head to Tsubaki Gunseirin, a camellia grove of some 25,000 camellia (Camellia Japonica) trees. The grove covers an area of nearly 10 hectares in the northern part of Torigasaki.
The flowers are in bloom from December to March, while the period between February and March we find the camelia most spectacular. From the camellia grove we will trek to the summit of Mount Kasayama, standing 112 meters tall in the center of Kita-Nagato Kaigan Quasi-National Park. At just 30 meters deep and with a diameter of 30 meters, Mout Kasayama is Japan's smallest volcano. Take a moment to observe the natural calm of the Sea of Japan and the pristine camellia grove below you.
Next up is Hagi Seaside Market, the oceanfront "Kitchen of Hagi", where local producers supply only the freshest ingredients. Lunch will be at a restaurant that features the fresh delicacies of seafood caught off the coast. The next stop on our tour will take us to a local potter, Seigan Yamane, who specialises in Hagi-yaki ware, a style of Japanese ceramics. You will be able to tour his workshop as well as try your hand at pottery making.
Accommodation: Japanese inn with hot spring baths.
Meals: Breakfast, lunch & dinner provided.
Total walking: 10km (6.2 miles) / 3 hours.
Total elevation gain: Total elevation gain:112m (367ft).
Day 6, Hagi – Hagi-Okan – Yuda Onsen
Next we head to Shouka Sonjuku, an institution designated as a UNESCO World Heritage Site in 2015. The title was awarded due to its pivotal role in the shaping of the Meiji period Japan. Under the tutelage of Shouin Yoshida, students and disciples were educated in military arts and politics. Notable graduates of Shouka Sonjuku include Gensui Kusaka, Shinsaku Takasugi, and Hirobumi Itō. These men are revered throughout Japan as Persons of Cultural Merit who rendered a great service to the nation.
Afterwards we will venture to Sasanami, a post-town on the Hagi O-kan Highway. This highway is a 53 kilometer long circuit that stretches from Hagi to the port of Mitajiri on the Seto Inland Sea. We will eat lunch at kokkyou no ishibumi, a monument mid-way on the Hagi O-kan highway, which marks the border of the feudal provinces of Suou and Nagato.
Our next destination on the Hagi O-kan is the Buddhist temple Rurikou-ji, where we will explore Kouzan Park and the Japanese garden Sesshu at Jouei-ji Temple. The pagoda at Rurikoji is one of the greatest architectural feats of the Muromachi period (1336 – 1573). It is the 10th oldest pagoda in Japan, and is considered one of the three famous pagodas in Japan.
There are three points of interest in the garden. If you observe the garden from each vantage point, the garden seems to transform and take on a different atmosphere. After our visit to Jouei-ji, we will head to Yuda Onsen, a town renowned for its hot springs. Once you've refreshed, feel free explore the area of Yuda Onsen or relax until dinner.
Accommodation: Japanese inn with onsen thermal hot spring baths.
Meals: Breakfast, lunch and dinner included.
Total walking: 8.2km (5 miles)/ 2 hours.
Total elevation gain: 300m (984ft).
Day 7, Yuda Onsen
Yamaguchi
The Tsuwano Hagi O-kan Tour finishes after breakfast, but you will have ample opportunity to explore Yudan Onsen and Yamaguchi City on your own. Learn more about the history of Yamaguchi City by visiting St. Xavier Memorial Chapel, or the Japanese poet Chūya Nakahara Memorial Hall. You can even try your hand at traditional Ouchi-nuri lacquerware.
Your accommodation is conveniently located near JR Yuda Onsen Station. You could take one final soak in a Japanese-style hot spring before departing on the Shinkansen. You may also take a bus to Ube Airport from JR Yuda Onsen Station. Your tour leader will be able to assist you in purchasing tickets as well as directing you to your final destination without a problem.
Accommodation: N/A.
Meals: Breakfast provided.
Total walking: N/A.
Total elevation gain: N/A
Hagi
Facing the azure Sea of Japan to the north, the city of Hagi is surrounded by green mountains and is located in the north central region of Yamaguchi.
Its history is rich, having been recorded in the Kojiki as Abu, one of the five districts of Nagato Province.
Home to Ogawa district, Shouka Sonjuku academy and the historic Sasanami, as well as the Hagi O-Kan highway.
Iwami Kagura
Iwami kagura is a traditional Japanese performance art originating in the Shimane Prefecture's western Iwami region.
It was originally intended as a means to show gratitude for a successful and bountiful harvest of the five grains, with dedication to the deities enshrined at a shrine.
Its choreography is lively, accented by distinctive sublime poetry and prose
It is now a popular folk art, and many people come to enjoy it.
Tsuwano
Located on the border of Shimane and Yamaguchi Prefectures is Tsuwano.
In Japanese, it is characterized as a jokamachi, the term referring urban developments in which a city surrounds a feudal lord's castle.
It is a town that appears to be frozen in time, as the Tsuwanogawa River flows through its center.
It has a tragic history of Japanese Christians, who were persecuted throughout the Edo and Meiji eras due to their faith.
Yadomi
The first extant record of Yadomi is of a Shinto shrine priest, who attended a festival at Abu Oi Hachimangu Shrine in 1352.
Yadomi Village itself was once known as a place where dragons once walked and several myths persist to this day.
It is said that dragons bestowed upon the villagers 83 treasures, one of which is soba, or buckwheat.
Susa Fishing Village
Formerly known as Susa-cho in the Abu District, This beautiful fishing village lies on the northeastern part of Yamaguchi Prefecture.
Susa was first inhabited around 400-300 BCE by maritime people from the Chinese mainland.
Its name is derived from the Japanese myth of Susanoo-no-Mikoto, the brother of the revered sun goddess Amaterasu. Susanoo-no-Mikoto was banished from heaven and descended to the province of Izumo, located in modern day Shimane Prefecture.
Esaki
Located near Shimane Prefecture in the far northeastern reaches of Yamaguchi Prefecture we find Esaki, a town on the Sea of Japan.
Esaki is remarkably different than its neighbors Hagi and Masuda in Shimane Prefecture. Those two cities served as the pivotal fulcrum of development for the San'you region. It is perhaps as a result of underdeveloped ties with its neighbors that Esaki has been able to evade the tide of modernization, resulting in perfectly preserved rows of houses, enveloped in the picturesque scenery of a fishing village.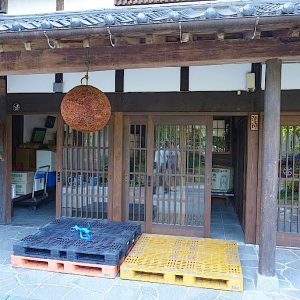 Ogawa
The mountainous terrain of Hagi's Ogawa district borders on Shimane Prefecture.  The origins of Ogawa as a station house on the Nagato by-pass, that linked San'in and San'you in feudal times, can be traced back to the Engishiki . The Engishiki is a 50 volume tome about Japanese laws and customs compiled in the early 10th century.
In the present day, Ogawa has faced depopulation and changes in its the economic structure and distribution mechanisms. Most recently the area was devastated by a deluge in July of 2013. Still, traces of its economic past remain thanks to the sake (Japanese rice wine) production at Sumikawa Brewery, and its famed premium drink "Toyo Bijin" (Beautiful Lady of the Orient).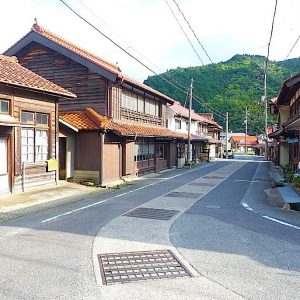 Sasanami
Sasanami is a farming village located in the southern part of Hagi city. As post-town on the Hagi O-kan Highway, Sasami was home to many teahouses and other rest stops that served traveling daimyo. Its townscape was formed in the 17th century and is rooted in agriculture, taking on its current layout as it developed into a post- town. Since then Sasami remains largely unchanged, with a notable number of buildings and its environment well-preserved.
In 2011, Sasanami joined the districts of Horiuchi, Hiyakomachi and Hamasaki as Important Preservation Districts for Groups of Historic Buildings. It is worth mentioning that this is a distinguishing honor that can only be matched by the old capital of Kyoto.