Aso Volcano and Culture Tour
Discover some of Aso's most beautiful and culturally significant sites on this short 3 day, 2 night tour.
Keywords :
adventure
,
adventure tour
,
Aso
,
beef
,
countryside
,
geo park
,
hiking
,
Hiroshima
,
hot spring
,
japan tour
,
japan travel
,
japan travel specialist
,
jigoku onsen
,
Kumamoto
,
Kurokawa
,
kyushu
,
locals
,
off the beaten path
,
off the beaten track
,
Oguni
,
rural
,
Sake
,
suzume-no-yu
,
Takamori
,
travel japan
,
trekking
,
Ubuyama
,
unesco
,
volcano
,
Walk
,
Walking
,
walking tour
Overview
Itinerary
Locations
Gallery
Reviews
Booking
Follow in the footsteps of Samurai as you walk along the longest stone-paved path in Japan.
Enjoy a relaxing soak in a famous hot spring bath at Suzume no Yu.
Visit 6th century tombs and a divine tree where spirits and deities are believed to reside at the Kokuzo Shrine.
Sample some Sake (rice wine) on a tour of Reizan, one of the most iconic sake breweries in Kumamoto.
---
Tour Level
Fitness: ★★★  Skill: ●●
---
This Aso Volcano and Culture Tour is a fully guided tour suitable for anyone who can walk for more than 1 to 3 hours.  This is a 3 day, 2 night tour that will take you to some of the best nature spots in Aso, including Japan's largest active volcano, Mt Aso, and some fantastic locations that are rich in cultural significance. Your tour accommodation will be hotels and
ryokan
(traditional Japanese inns featuring
tatami
flooring and
futon
bedding). The maximum group size for this tour is 12 persons. At the heart of Japan's most southwesterly island of Kyushu lies
Kumamoto Prefecture
. Whilst Kyushu's modern day capital is Fukuoka, situated in the north, historically Kyushu was governed from Kumamoto. Its feudal lords presided from Kumamoto Castle, one of the top 3 revered castles in Japan. Samurai and feudal lords made frequent use of the Futaenotouge Pass, a portion of the Bundo Circuit connecting Kumamoto to Tokyo.
Tour attendees will have the opportunity to meet locals as well as try regional produce and cuisine. 
On the first day we will visit Kumamoto Castle before traveling to Aso for a walk on a historical Samurai road and a dip in the old hot spring baths of Suzume no Yu. 
On the second day, we will go to Kokuzo Shrine, home to the remains of a great 2000 year old tree, Teno Osugi which came down in a typhoon in 1991. 
We will then take a trek up to the famously turquoise crater of Mt Nakadake - one of the peaks of Mt Aso, the largest active volcano in Japan and one of the biggest in the world. 
On the third day, we will take a walking tour to Nishinomiya and Yasaka Shrines, before heading to the famous Marukichi soy sauce factory and a Reizan sake brewery for a tour and tasting experience.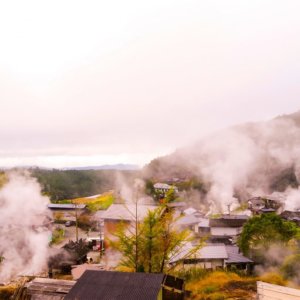 It should be noted that Kumamoto was struck by a particularly devastating earthquake in April 2016. As such, many towns, villages and historical sites such as Aso Shrine are currently being renovated. Nevertheless, the resilient people of Kumamoto and Aso eagerly await your visit to the heartland of Kyushu.
Day 1 - Samurai Road Walk and Hot Spring Tour
Today's tour will begin at 10:00 at Kumamoto Station, with participants heading to Kumamoto Castle before stopping for a lunch-break to enjoy some local-style ramen. From there, we will then travel to Aso City - a journey that will take 90 minutes via private coach. 
On the way to Aso city, we will stop to walk along the Futae no Touge Pass - an elevated mountain pass 683 metres (2240.81 feet) high. The Futae no Touge Pass is part of the Bungo Circuit - a historic trail that was once used by the Feudal Lords of the Kumamoto Domain to travel to Tokyo as part of a practice known as sankin-kotai. Relive history and follow in the footsteps of Samurai as you walk along the 1.6 kilometer (1 mile) long stone-paved "Ishi-datami no Michi" - the longest of its kind in Japan. 
Afterwards, we will head to Suzume no Yu, to enjoy a dip in one of the five different baths that this famous hot spring has on offer. 
Accommodation: Japanese inn with onsen thermal hot spring baths. Meals: Lunch and Dinner Provided.
Day 2 - Volcano Trek and Cultural Tour
This morning we will leave the hotel and depart for Aso Shrine, with a short stop at the former girl's school. The school was built in the early 20th century and its charm is accented by the sounds of bubbling water thanks to the presence of spring water in the surrounding area. As we make our way to the Shrine, we will pass plenty of unique shops that offer an impressive variety of souvenirs and delicious Japanese foods.
Afterwards, we will make our way to Kokuzo Shrine, marked by its impressive goshinboku, Teno Osugi, a divine tree in which kami (spirits and deities) reside. We will also visit the 6th century tombs of Kami-Mikura and Shimo-Mikura.
Lunch will be at a local eatery, and is to be followed by an afternoon trek to Mount Nakadake, one of Mount Aso's Five Peaks.
Accommodation: Japanese inn with onsen thermal hot spring baths. Meals: Breakfast, lunch and dinner included.
Day 3 - Culture and Local Produce Tour
Today we begin at Nishinomiya Shrine before heading on to both Minamiaso Village and Yasaka Shrine. At Yasaka Shrine you will be able to see how the stone staircase and its torii (gateway) join with the famous arched-stone Megane Bridge. From there, we will venture in the direction of Nishinomiya Shrine for a 90 minute walk. Among the kami (gods or deities) worshipped at Nishinomiya Shrine are the Daimyojin - the "great shining deities" of Aso, Kosa and Takaki.
Lunch will be at a soba restaurant in Minamiaso Village, followed by a tour of nearby Takamori. We will then visit Hizenya, a craft shop that is famous for producing Marukichi Soy Sauce and Miso. Finally there will be a sampling tour at Reizan, an iconic sake (rice wine) maker of Kumamoto.
The tour will end when we return to Kumamoto Station. 
Meals: Breakfast and lunch included.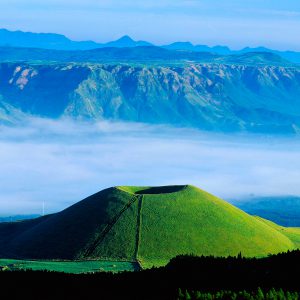 Aso Caldera.
The caldera of Mount Aso is one of the world's largest volcanoes.
"Aso" refers not only to the city, but also Mount Aso. Mount Aso is not a singular mountain; rather it is geologically classified as a cluster of volcanic peaks that form a ring around the city.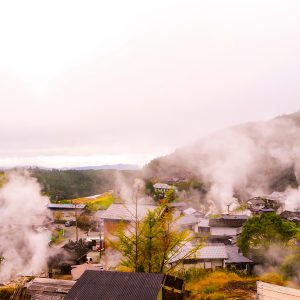 Oguni
Oguni lies in the northern portion of the outer mountains of Mount Aso. Within this area of forested mountains and fields is Tsuetate Onsen hot springs, a charming onsen (hot spring) town that rests quietly within the rising steam from the underground sources, as well as Waita Onsen and Kurokawa Onsen. Minami Oguni Village is prized as one of Japans 100 most beautiful villages.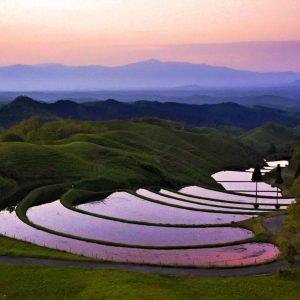 Ubuyama
In the northeast of Mount Aso's outer ring of mountains and encircled by the Kuju Mountain Range lies Ubuyama Village. Ubunyama village is a land of sprawling grasslands, lush green forests and limpid waters. From its highlands one is greeted to a 360 degree panoramic view of Mount Aso, Mount Kuju and Mount Sobo. Here, one can enjoy the spoils of nature that are seldom discovered amongst urban life, making Ubuyama the perfect nature retreat to experience scenery characteristic to each season, life on a farm, fresh water, and delicious foods.
Namino
Namino village lies in the northeast of Kumamoto Prefecture, bordering with Oita Prefecture. Namino is enveloped by mountains and is rich in natural resources. In Japanese "nami" means "waves", and as such Namino takes in name from the fact that this outer rim of Aso resembles waves. Namino is also known for Nakae Iwato Kagura and Yokobori Iwato Kagura.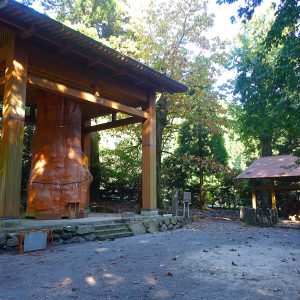 Teno
The district of Teno, a farming village tucked beneath abundant nature, is more than 2,000 years old. It is where one can take in all 5 peaks of Mount Aso and be captivated by its waterways and greenery. It is renowned for its spring water known as Teno no Meisui. Teno is also home to Kokuzo Shrine, affectionately dubbed the sibling to Aso Shrine.  A common sight in Teno are gardens in which bamboo baskets full of taro potatoes swish around in miniature waterfalls created by a small flowing stream.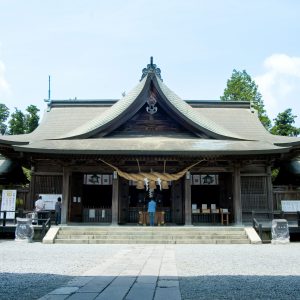 Aso Shrine
Aso Shrine is one of Japans oldest Shinto shrines. It is famous not only for the gods that is enshrines, but also for the road that leads toward it. This path is popular among pilgrims and nature lovers alike. The sando, or pilgrimage route leading up to Aso Shrine, is a rarity as it runs parallel to the Shrine instead of leading directly to it.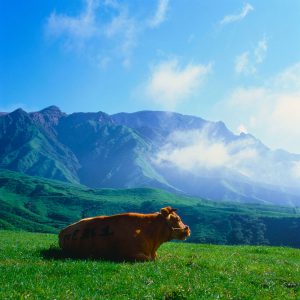 Kumamoto Aka Ushi
Kumamoto aka ushi is one of the 4 breeds of wagyu, Japanese cattle or beef crossbred and cultivated in Japan since the late 19th century. Aka ushi is also known as Japanese Brown on Japanese Red in the West. Incidentally, aka ushi directly translates to "red cattle" or "red beef."