Coastal Villages and "Little Kyoto" Castle Town Tour in Hagi, Tsuwano
Explore coastal villages and castle towns while immersed in Japanese culture and history.
Keywords :
adventure
,
another kyoto
,
beach
,
Boat
,
camellia forest
,
castle town
,
cultural adventure
,
Esaki
,
fisherman
,
geo park
,
Hagi
,
Hagi-okan
,
hagi-yaki
,
hidden gem
,
hiking
,
Hiroshima
,
history
,
lesser known
,
little kyoto
,
meet locals
,
off the beaten path
,
off the beaten track
,
Ogawa
,
pottery
,
Sake
,
Shin-Yamaguchi
,
sumikawa sake brewery
,
Susa
,
toyobijin
,
Trail
,
unknown destinations
,
Walking
,
walking tour
,
World Heritage
,
Yadomi
,
Yamaguchi
,
Yuda-Onsen
Overview
Itinerary
Locations
Gallery
Reviews
Booking
Enjoy a tour of a local Sake (rice wine) brewery and taste their products.
Relax with a dip in an Onsen (hot spring).
Ride on a fishing boat along the unique Susa Hornfels.
Trek to the summit of Mt Koyama.
Take part in an authentic tea ceremony.
Watch a traditional performance of Kagura, Japan's oldest performing art.
---
Tour Level
Fitness: ★★  Skill: ●
---
The Tsuwano and Hagi O-kan Highway tour is a breathtaking journey across Japan's
Chugoku region
, which is located on the western part of the main island of Honshu. Five prefectures; Hiroshima, Okayama, Shimane, Tottori, and Yamaguchi comprise the Chugoku region. This tour will take you between
Shimane
and
Yamaguchi Prefectures
. By visiting towns and villages that are seemingly frozen in time, virtually unchanged over a course of centuries, we will experience the rich and unique history of Japan and this region.
This coastal villages and castle town tour is a 3 day, 2 night fully guided tour, suitable for anyone who can walk for more than 5 to 10km in comfort. The maximum group size for this tour is 12 persons. The minimum group size for this tour is 4 persons.
The first day of the tour will be a tour of the coastal village of Esaki in Yamaguchi Prefecture, where you will visit the hexagonal Saidoji Buddhist temple, stroll along the beach and then tour Sumikawa Sake Brewery, where you will have the opportunity to sample some of the products. The day will end with a relaxing dip in an onsen (hot spring) at Tamagawa - a popular Japanese custom that you're sure to enjoy.
The second day will be spent enjoying the mountainous coastline of Susa, where you will take a trek up to the summit of Mt Koyama and ride on a fishing boat along the unique Susa Hornfels. 
Finally, the third day will include a guided tour of the small castle town of Tsuwano, otherwise known as 'Little Kyoto', giving you the chance to explore the historical area, and visit the site of banished Christian Martyrs. There will also be a trip to a tea farm to see the tea production process, taste the tea and even take part in a traditional Japanese tea ceremony. 
The tour will come to an end after watching a traditional performance of Kagura, the oldest performing art in Japan, in the grounds of Taikodano Inari Shrine.
Day 1 - Seaside Village and Sake Brewery Tour
Meeting at the Higashi-Hagi station at 9am, we will travel by microbus to start the day by enjoying the sight of boats docked in the shining emerald green harbor of the fishing village of Esaki. 
Next, we will visit Saidoji Temple, which dates back to the early 15th century, before then enjoying a leisurely stroll across a slightly elevated, hilly promenade along the coastline. 
Lunch will be served at a local restaurant, and then will be followed by a walking tour of Minato Iriguchi and the area's stunning beach. 
In the afternoon we will visit the Ogawa Sumikawa Sake Brewery to tour the brewery, watching the sake brewing process and enjoy a tasting experience. After this, we will travel by Microbus to Tamagawa Hot Spring for a relaxing and rejuvenating soak before dinner.
Meals: Lunch and Dinner Included.
Day 2 - Mountain and Coastline Walking Tour
Today begins with a trek up Mount Koyama, which stands 533 meters high on a cape that juts out into the Sea of Japan. Perched on the summit is a Shinto shrine that marks the destination of our morning journey. We will then board a squid fishing vessel manned by local fishermen for an unmissable opportunity to interact with them while exploring the waters.
After a delicious lunch at a local restaurant, we will then take a walking tour of Kabuto Iwa and Yoroi Iwa, leading to the Susa Hornfels. The Susa Hornfels have been selected as one of Japan's top 100 most unique nature spots, and are a sight not to be missed. 
Taking a microbus to Yadomi Tatamigahuchi, we will then enjoy a leisurely stroll before stopping for dinner at a local restaurant and returning to the hotel for some free time.
Meals: Breakfast, lunch and dinner included.
Day 3 - Small Historical Castle Town ("Little Kyoto") Tour
The final day of our tour will feature a trip to Tsuwano, a small castle town commonly referred to as 'Little Kyoto' due to its great history and cultural features. We will begin with a visit to Taikodani Inari Shrine to see its one thousand vermilion torii gates, then take the chair-lift to explore the ruins of Tsuwano Castle. After that, it's time to visit the Tsuwano Catholic Church and Otome Pass, which was once the place of banished Christian Martyrs. 
After lunch at a local restaurant, we will travel to a tea farm where you will be able to witness how the tea is made, as well as sample the tea during a traditional Japanese tea ceremony experience. From there, we will return to the Taikodani Inari Shrine to enjoy a dinner of soba or udon noodles - a local specialty. 
In the evening, we will enjoy a performance of Iwami Kagura - the oldest and most vibrant form of traditional Japanese theatrical dance - which is frequented by locals. After the performance, the tour will return to Higashi-Hagi station at around 10pm, where it will end. 
Meals: Breakfast, Lunch and Dinner Included.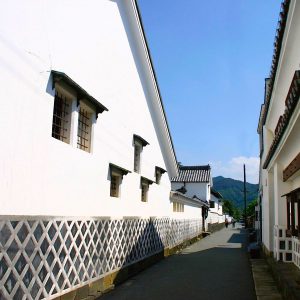 Hagi
Facing the azure Sea of Japan to the north, the city of Hagi is surrounded by green mountains and is located in the north central region of Yamaguchi. Its history is rich, having been recorded in the Kojiki as Abu, one of the five districts of Nagato Province. Home to Ogawa district, Shouka Sonjuku academy and the historic Sasanami, as well as the Hagi O-Kan highway.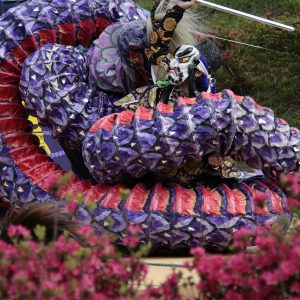 Iwami Kagura
Iwami kagura is a traditional Japanese performance art originating in the Shimane Prefecture's western Iwami region. It was originally intended as a means to show gratitude for a successful and bountiful harvest of the five grains, with dedication to the deities enshrined at a shrine. Its choreography is lively, accented by distinctive sublime poetry and prose It is now a popular folk art, and many people come to enjoy it.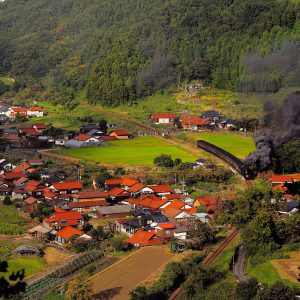 Tsuwano
Located on the border of Shimane and Yamaguchi Prefectures is Tsuwano. In Japanese, it is characterized as a jokamachi, the term referring urban developments in which a city surrounds a feudal lord's castle. It is a town that appears to be frozen in time, as the Tsuwanogawa River flows through its center. It has a tragic history of Japanese Christians, who were persecuted throughout the Edo and Meiji eras due to their faith.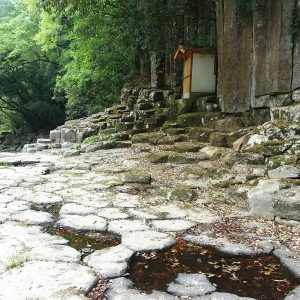 Yadomi
The first extant record of Yadomi is of a Shinto shrine priest, who attended a festival at Abu Oi Hachimangu Shrine in 1352. Yadomi Village itself was once known as a place where dragons once walked and several myths persist to this day. It is said that dragons bestowed upon the villagers 83 treasures, one of which is soba, or buckwheat.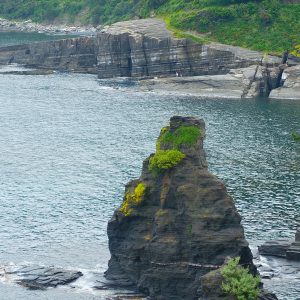 Susa Fishing Village
Formerly known as Susa-cho in the Abu District, This beautiful fishing village lies on the northeastern part of Yamaguchi Prefecture. Susa was first inhabited around 400-300 BCE by maritime people from the Chinese mainland. Its name is derived from the Japanese myth of Susanoo-no-Mikoto, the brother of the revered sun goddess Amaterasu. Susanoo-no-Mikoto was banished from heaven and descended to the province of Izumo, located in modern day Shimane Prefecture.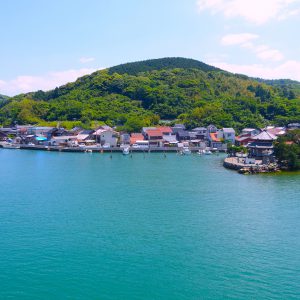 Esaki
Located near Shimane Prefecture in the far northeastern reaches of Yamaguchi Prefecture we find Esaki, a town on the Sea of Japan. Esaki is remarkably different than its neighbors Hagi and Masuda in Shimane Prefecture. Those two cities served as the pivotal fulcrum of development for the San'you region. It is perhaps as a result of underdeveloped ties with its neighbors that Esaki has been able to evade the tide of modernization, resulting in perfectly preserved rows of houses, enveloped in the picturesque scenery of a fishing village.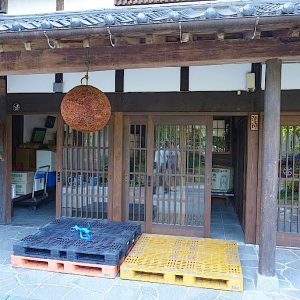 Ogawa
The mountainous terrain of Hagi's Ogawa district borders on Shimane Prefecture.  The origins of Ogawa as a station house on the Nagato by-pass, that linked San'in and San'you in feudal times, can be traced back to the Engishiki . The Engishiki is a 50 volume tome about Japanese laws and customs compiled in the early 10th century. In the present day, Ogawa has faced depopulation and changes in its the economic structure and distribution mechanisms. Most recently the area was devastated by a deluge in July of 2013. Still, traces of its economic past remain thanks to the sake (Japanese rice wine) production at Sumikawa Brewery, and its famed premium drink "Toyo Bijin" (Beautiful Lady of the Orient).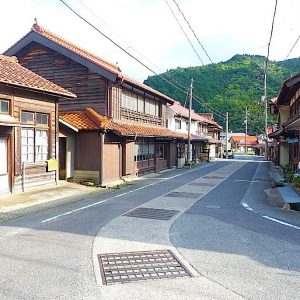 Sasanami
Sasanami is a farming village located in the southern part of Hagi city. As post-town on the Hagi O-kan Highway, Sasami was home to many teahouses and other rest stops that served traveling daimyo. Its townscape was formed in the 17th century and is rooted in agriculture, taking on its current layout as it developed into a post- town. Since then Sasami remains largely unchanged, with a notable number of buildings and its environment well-preserved. In 2011, Sasanami joined the districts of Horiuchi, Hiyakomachi and Hamasaki as Important Preservation Districts for Groups of Historic Buildings. It is worth mentioning that this is a distinguishing honor that can only be matched by the old capital of Kyoto.