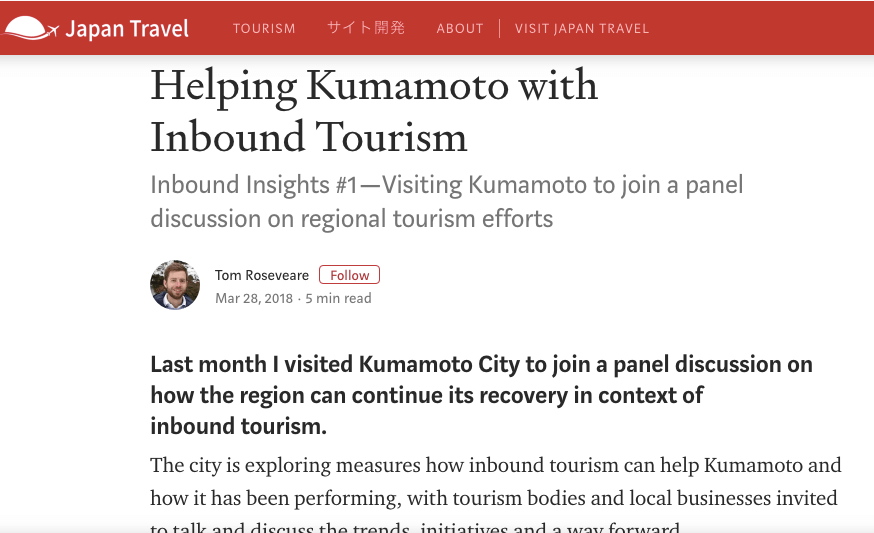 Road to the World Cup
—Though the Olympics are looming in 2020, all eyes here are on the Rugby World Cup 2019, which will not just bring the tournament to Japan (and indeed Asia) for the first time, but also in particular two fixtures to Kumamoto City.
With the tournament lasting 6 weeks, this represents a unique opportunity to target longer-term stays in the region.
One example of this could be 'slow-travel' walking tours, with a strategy including 6-day trekking experiences like this in the Aso region already being adopted by Heartland Japan, a regional revitalisation project led by Liberta's CEO Keijiro Sawano who Japan Travel has been supporting in recent years.
Longer stays obviously keep tourists consuming local products and services, but also perhaps represent a good bet on the emergence of experience travel but also a resurgence of interest in countryside and mountain trekking, thanks to both word-of-mouth advertising but also the influence of overseas media, like ITV's 'Joanna Lumley's Japan' — known to UK/Australian markets.
Such rural trekking opportunities like Aso provides, as well as locations like Nakasendo and the Kumano Trail, offer a fascinating glimpse into Japan's past, alongside the opportunity to meet 'real' local Japanese — an area I alluded to in my discussions with the audience in Kumamoto.—

Click the link below to read the full article:
https://medium.com/japan-travel/helping-kumamoto-with-inbound-tourism-b30834a12bb4