Journey to Iwate, the Utopia of Japan
This tour takes participants to various locations across Iwate, which was once considered to be the 'ideal land' by the Samurai who settled there.
Keywords :
adventure
,
adventure tour
,
cultural adventure
,
hiking
,
Honshu
,
Iwate
,
off the beaten path
,
off the beaten track
,
Tohoku
,
Walking
,
walking tour
Overview
Highlights
Trip Outline
Gallery
Booking
Tour Level
Fitness: ★★☆☆☆
Overview
This tour takes participants to various locations across Tohoku, a region just over three hours' distance from the capital city of Tokyo. Far from the bustle and rush of the capital, Iwate was once considered to be the 'ideal land' by the Samurai who settled there.
Tohoku is rich with cultural heritage and historical significance, yet is still relatively unknown as a tourist destination, unlike locations such as Kyoto and Hiroshima. As a result, visitors are able to explore the mysteries of the area and connect with the warm, friendly residents in a way that very few ever take the time to do.
This is a unique trip, offering participants the opportunity to interact with local Japanese residents such as craftsmen, fishermen and those who make a living working in fascinating and unique shops along the shopping street. There will also be opportunities to watch performances of traditional Japanese arts, such as Kagura (a traditional Shinto ritual dance) and Kenbai (a fascinating mix of dance and martial arts).
In addition to conversation and culture, this tour also includes chances to make the most of the area's sea and mountains through activities such as kayaking and even a fascinating cruise on an authentic, working fishing boat. Having fully made the most of the area's outdoor resources, participants can then take the time to relax in a hot spring facility at the foot of one of Tohoku's stunning mountains.
Particularly ideal for food-lovers, participants on this tour can feast on freshly-caught game at a traditional winter hunters' restaurant in Miyako, enjoy delicious paella on one of the islands of Yamada (an area famous for oyster farming), and even take part in a quayside scallop BBQ after a fishing boat cruise with a genuine scallop fisherman.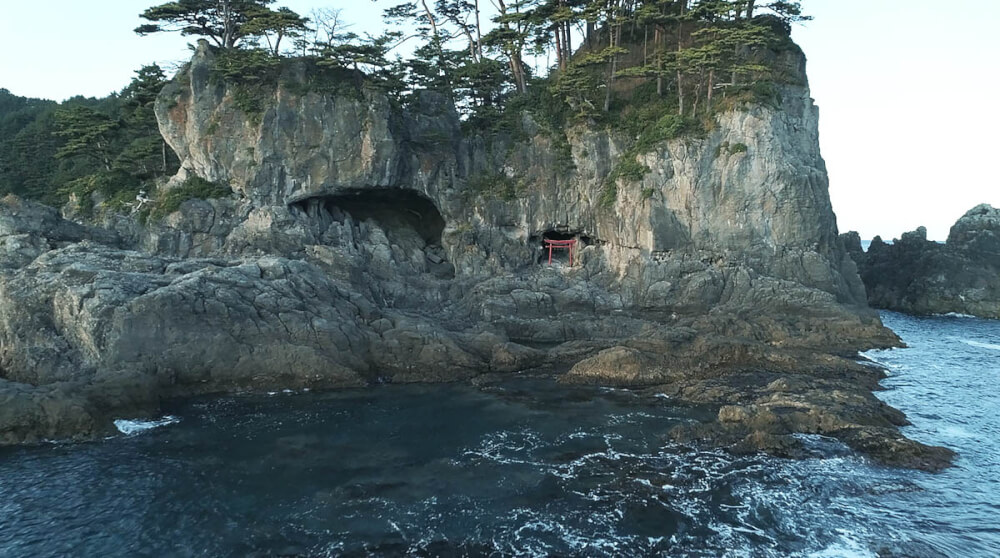 Highlights
Listen to Japanese folk-tales told by a local storyteller

Discover the lore and mysteries of the area on a guided folk tale tour with a knowledgeable local guide

Immerse yourself in the beauty of Tohoku as you take part in a fun kayaking experience

Try your hand at oyster farming and enjoy delicious meals made with fresh, local produce

Watch a special performance of Kagura, a traditional form of worship-dance dating back over 1000 years

Learn about the impact of tsunami from the locals who have lived through it and wish to share their experiences with the world

Interact with locals, listen to their stories and watch their performances as you travel across one of Japan's most fascinating - yet undiscovered - destinations
Itinerary
Day One
Your tour begins in Tono, Japan's hometown of folktales, in the late afternoon. Having checked in to your accommodation, you'll gather with the group to listen to some beautiful folktales, told by a local storyteller. Let your imagination run wild as you listen, and prepare yourself for the magic, mystery and wonder of the days to come.
After the stories are over, dinner will be served at your accommodation.
Day Two
Day two begins with a trip via private bus to Takashimizu, for a visit to the Takashimizu Observation deck with a local guide to take in the spectacular views of the area.
Next, the group will travel back to Tono City, the home of folklore, for a guided tour. Your guide will introduce you to some of the monsters and creatures that originate from the area as you visit locations such as Kappabuchi Pool andOshirado Hall, which is located within the lovely Denshoen Park where you will stop for lunch.
Your next stop via private bus will be Furusatomura, where another knowledgeable local guide will take you on a walking tour of the town's open-air museum.
Driving to Miyako, you will then check in to your accommodation for the night, with a buffet dinner served later in the evening. If you wish, you could also take the time to stroll around the nearby Jodogahama beach, which is both beautiful and considerably well-known.
Day Three
Make sure to eat as much as you can for breakfast on day three - you'll need all the energy you can get for the day ahead!

After travelling to Yamada via private bus, you'll then have the exciting chance to jump into a kayak and make your way to Oranda-jima island across the water, with a unique perspective of the beautiful scenery you pass.
Arriving at Oranda-jima, you'll then get to try your hands at Oyster fishing. See how many you can find and catch, then enjoy a special paella lunch using freshly-caught ingredients. After lunch, you'll climb back into your kayak and return to Yamada.
Driving back to Miyako, your next hands-on experience will be sword making at a special workshop. Here, you'll learn about the history and culture that surrounds Japanese swords, and then attempt to make a paper-knife of your own under the watchful guidance of a master craftsman.
In the evening, you'll stop at a local restaurant to enjoy a delicious meal of game meat while listening to the stories of Matagi, the traditional winter hunters of Tohoku, whose fascinating culture of bear-worship and belief in mountain gods has shaped the way they live for centuries.
Day Four
After breakfast on day four, you'll travel to Ryusendo, one of Japan's largest limestone caverns. Explore the cave, learn more about geology and enjoy a tour of this national monument. After the tour, you'll then drive to Ureira for a stroll along the town's shopping street, with plenty of opportunities to visit the shops and interact with the owners.
After lunch at a nearby restaurant, you'll next receive a tour of a local sake brewery. Learn how sake is made, watch the process take place, then stop to sample some of the delicious produce before then strolling down the street to meet with local residents in a handicrafts centerfor a chance to interact, chat and ask any questions you may have about life in the Japanese countryside or the traditional handicrafts that are made at the location.
Travelling to Tanohata by private bus in the afternoon, your last activity before returning to your accommodation will be a sappasen boat adventure. Climb aboard and listen to the stories of the fishing village from the people who know it best - the fishermen. As you listen, ensure that you make the most of this wonderful opportunity to view the impressive cliffs and beautiful scenery of the area from a truly special perspective.
Dinner will be served at your accommodation this evening, and followed by a rare, private performance of Kuromori Kagura. Kagura, a special, regional variation of a form of dance-based worship traditionally performed at shinto shrines to entertain the gods, dates back over 1300 years and continues to this day thanks to volunteers and performers who seek to keep this ancient culture alive. As you witness the bright costumes and rhythmic movements of the performers, allow yourself to be mesmerised by this special show, performed just for you.
Day Five
As day four ended slightly later than usual, you'll have some extra free time this morning to enjoy a leisurely breakfast, take a stroll along the beautiful Jodogahama beach (or even take a dip, weather permitting!)  and make use of your accommodation's facilities before being driven to Hideshima fishing port around 10:30am.
At Hideshima, you'll board a real, working fishing boat for a cruise around the bay. As you sail, the fishermen will teach you how to gather scallops, presenting you with a fun opportunity to try it for yourself. You better hope to pull in quite the haul, as you'll then make your way back to the port for a delicious and memorable seafood BBQ. Fed full of fresh fish, you'll then be driven to the Miyako Fish Market to experience a live fish auction.
In the afternoon, the group will travel to Taro to hear two harrowing tsunami stories told by people who lived through them. The first will be told to you by a local guide who will introduce you to the town he calls home, and the second will be shared by the owner of your accommodation for the evening after you've checked in and dropped off your bags. Such tales can be difficult to hear, but they're truly important - tsunami and other natural disasters can have a huge impact on the lives and livelihoods of rural Japanese communities, and by sharing experiences, it is hoped that future generations will have a better chance to prepare for (and find potential solutions for) emergencies outwith their control.
At night, you'll have the chance to enjoy another, final performance. This time, a private performance of Ushifushi Nenbutsu Kenbai - a traditional Samurai dance with 400 years of history - will be staged by a group of young, local dancers for you at your hotel for another immersive and mesmerising experience of Japanese culture and art. Afterwards, feel free to spend some time making the most of your accommodation, such as the private rotenburo bath attached to your room or the rooftop bathing facilities from which you can enjoy a fantastic sunset or sunrise view.
Day Six
Your tour will come to an end after breakfast on day six. Saying goodbye to the beautiful Japanese countryside and the wonderful people you've met may be difficult, but we hope that you'll never forget your adventure, and always hold Iwate in your heart.
Pricing Name

Start

End

Group (Min-Max)

Pricing