In southeast Gifu prefecture, the city of Nakatsugawa is a historical gem on the Nakasendo road. Too many travelers pass through without realizing what they are missing. Here are 6 little known reasons to hike from Nakatsugawa to Magome on the Nakasendo road. This hike passes through three old post towns. You can see rice fields, forests, cobble stone paths and rural life in real Japan. This is the path less beaten and it might just be the highlight of your trip.
Distance: 8.3km

Approximate Hiking Time: 2 hours
Difficulty: Easy
Footwear: Flat, outdoor friendly shoes (no heels)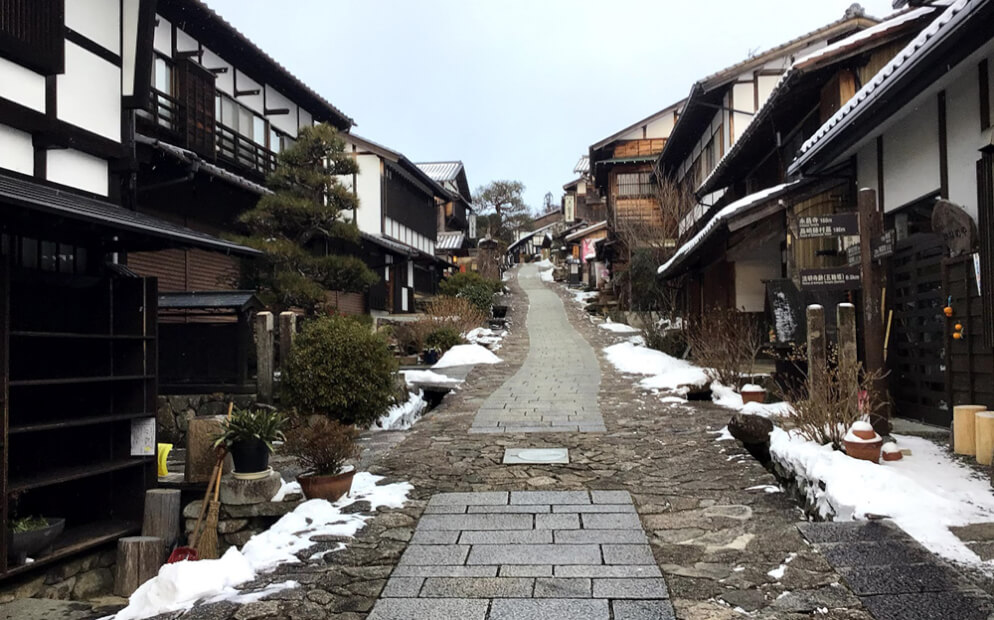 The Nakasendo (中山道) is a historical road built in the early Edo period (1603 -1868) which connects Kyoto and Edo (Tokyo). The Nakasendo literally translates to the central-mountain-pass. The meandering road navigates a route around the great mountain ranges of central Japan that separate the fertile plains of Kansai and Kanto. The road was one of 5 official roads maintained and used by the shogun. Travelers were frequent and sometimes large in number. To cater to the travelers, small post towns dotted the road every few kilometers providing accommodation, shops, temples and shrines. There were 69 post towns in total, this hike visits three in one day.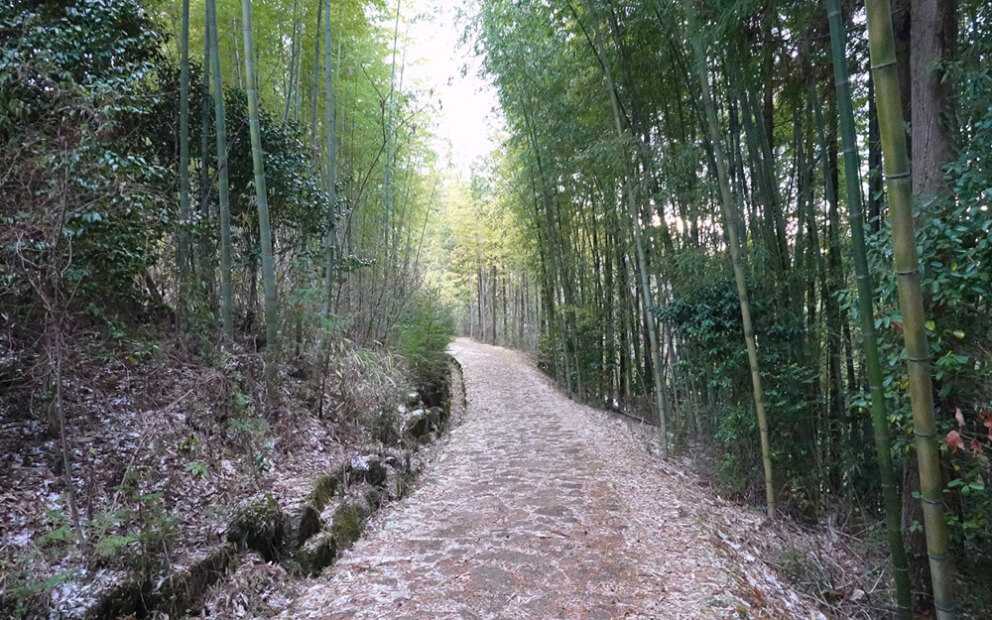 Just a ten-minute stroll from Nakatsugawa Station, the historical post town of Nakatsugawa Juku is where your adventure on the Nakasendo begins. This charming little town maintains its historic feel with the old wooden buildings taking you back in time to Edo period Japan. Sake, Japanese sweets and coffee give you a chance to taste and smell traditional Japan (OK, the coffee might not be traditional, but it does smell good) while giving you some fuel for the hike up ahead.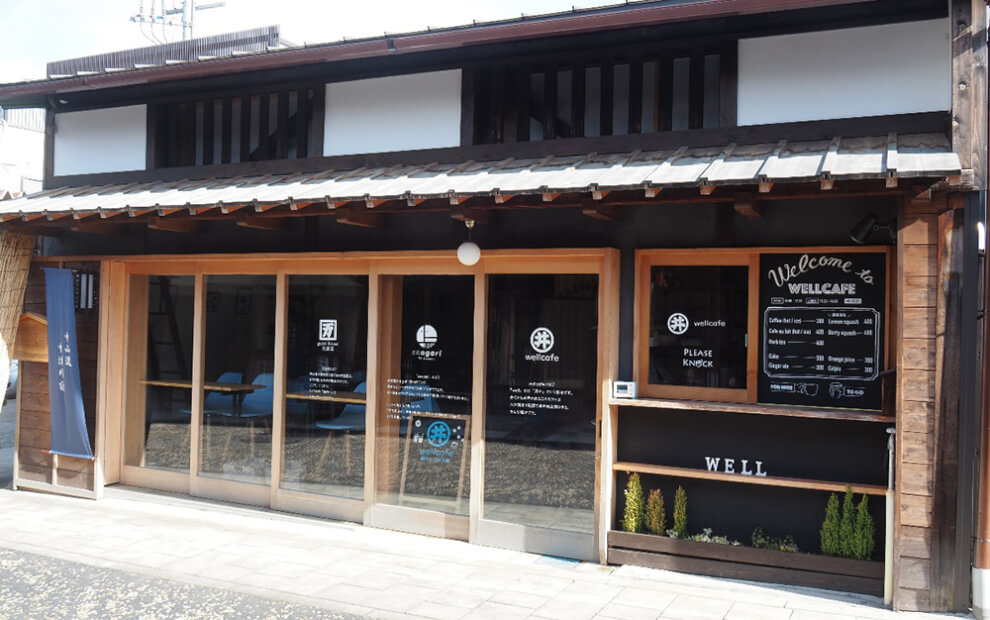 1 – Hazama Sake Brewery
Hazama Sake Brewery (はざま醸造) is a beautiful old sake brewery steeped in history. A large shop floor with a sake tasting area is even equipped with a water well inside the store. This delicious water is used to brew the sake. Spend the night in Nakatsugawa to enjoy this store to the fullest without jeopardizing your hike!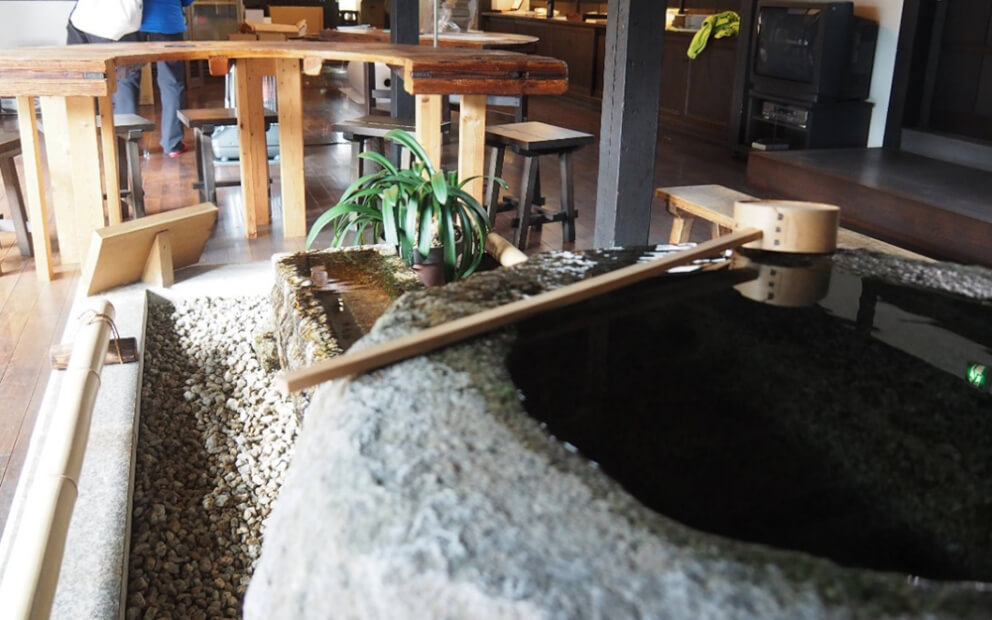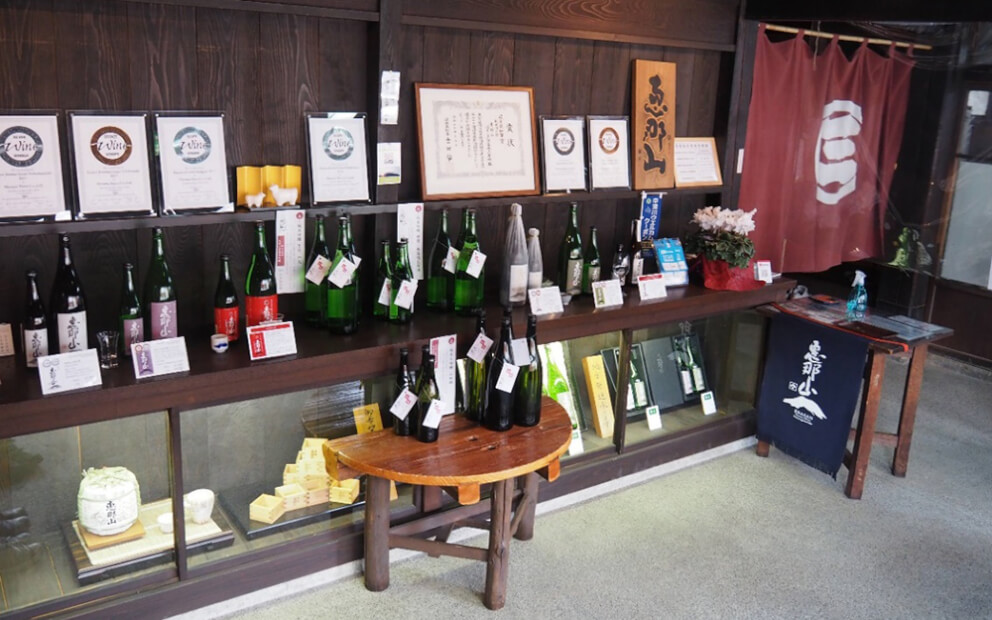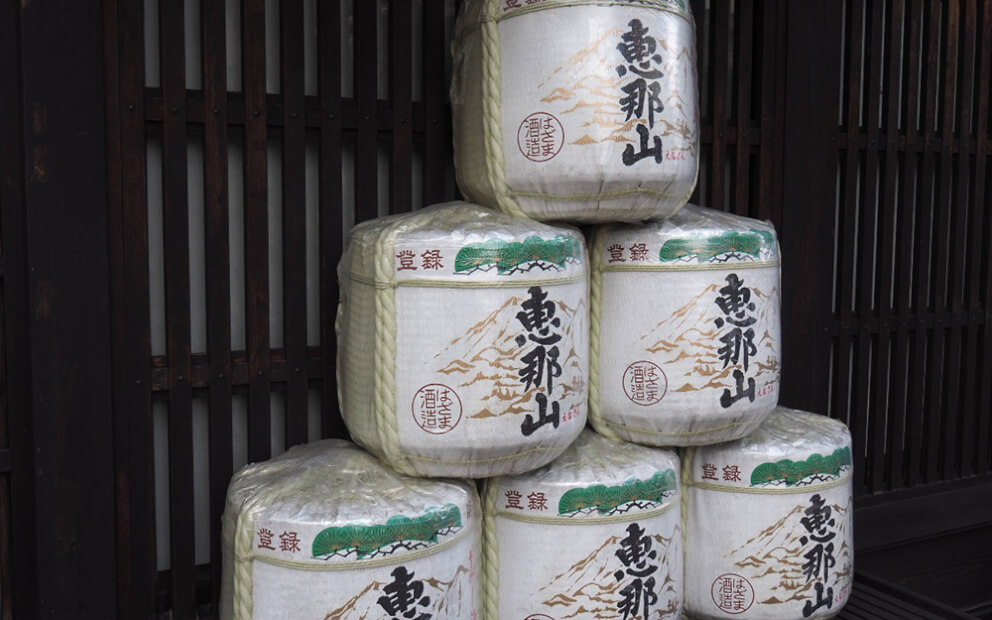 2 – Kawakami Japanese Confectionary Shop
One of the oldest businesses never to have closed its doors here is the Kawakami Japanese Confectionary Shop. Famed for its local chestnut sweets, the kuri-kinton,(栗きんとん)this shop draws a long line of Japanese customers at weekends, waiting to get their eager hands on their traditional goodies. This place wreaks of that love that Japanese masters of their trade apply to their work.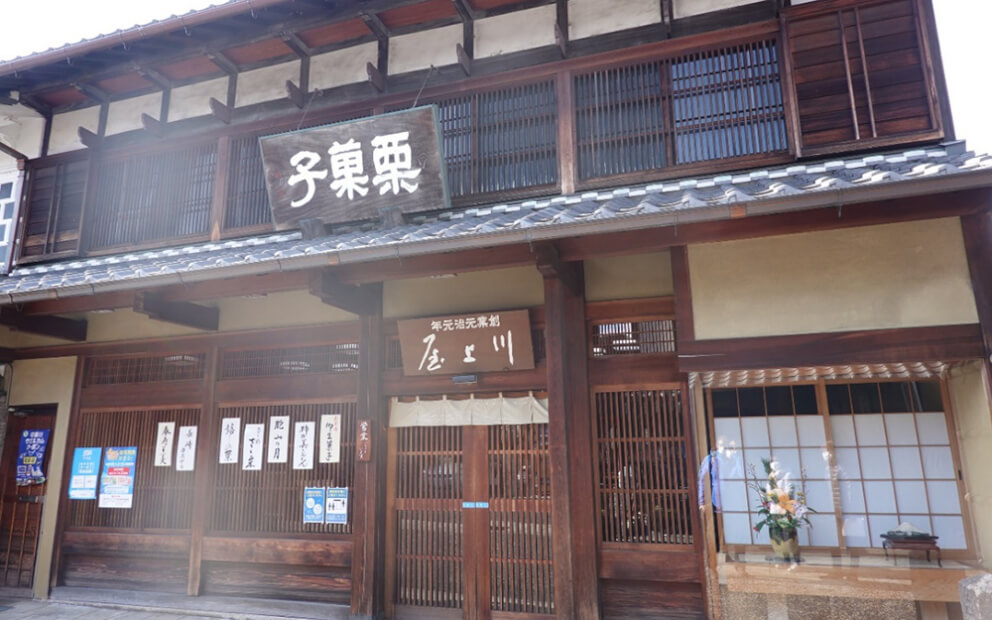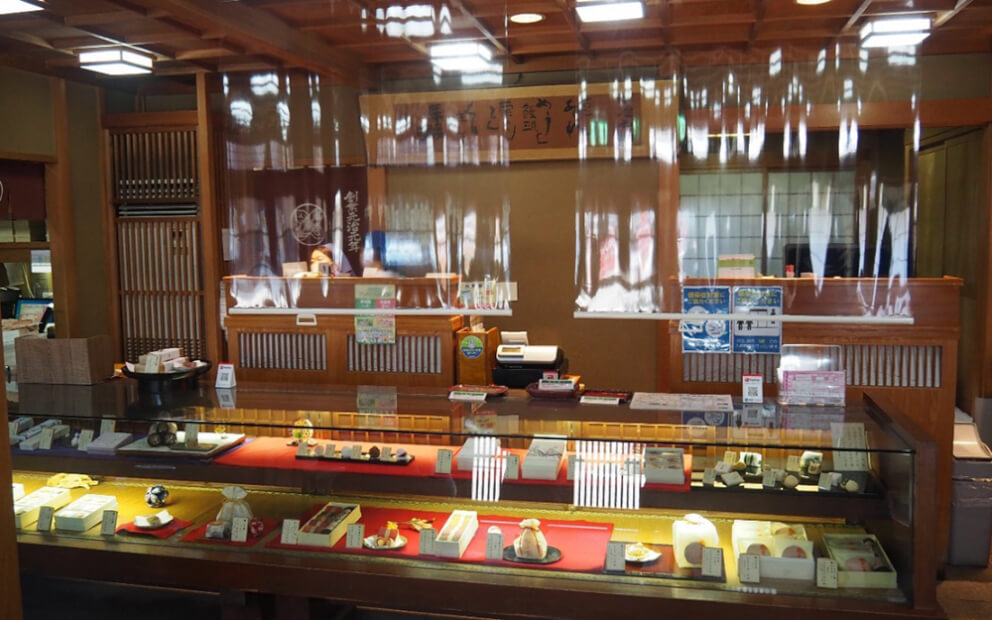 A one hour hike at a brisk pace on the well sign-posted Nakasendo trail will take you to the next post town of Ochiai Juku. This hidden gem is really a treasure waiting to be found. Some of the old houses here have been lovingly renovated into shops selling hand-made items and providing workshops in traditional arts and crafts. This sleepy little town is a great chance to rest your legs for a moment and immerse yourself in Japanese culture.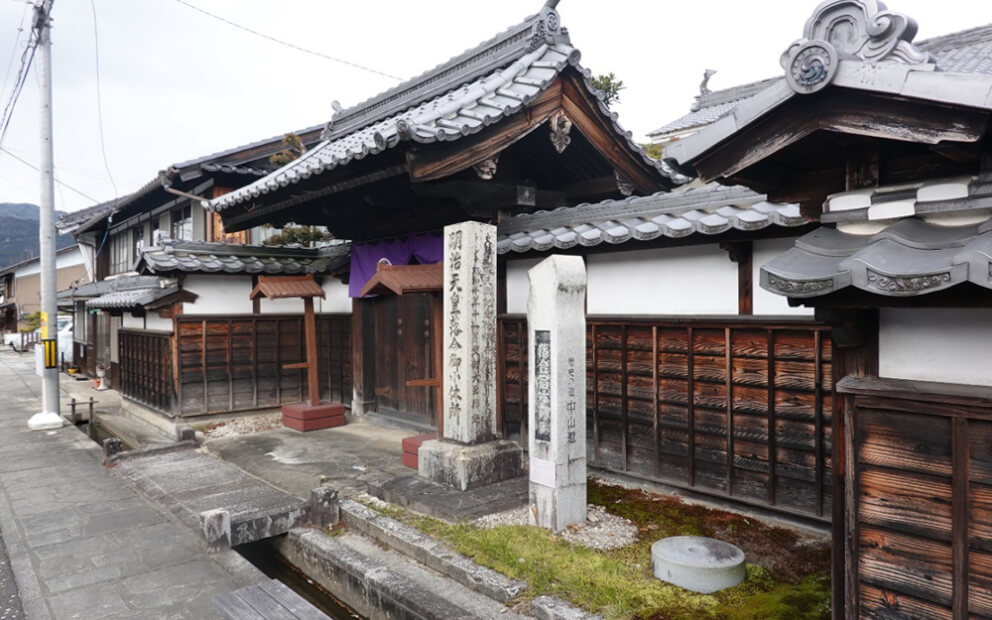 3 – CREATED CRAFT SHOP LABORATORY
One such renovation is a shop called CREATED CRAFT SHOP LABORATORY.The young couple that renovated the place specialize in indigo dying, weaving, metal work and dry flower arrangement. The shop is a feast of natural colors for your eyes to consume. And getting hands-on in one of their workshops is a highly recommended way to break up your walk.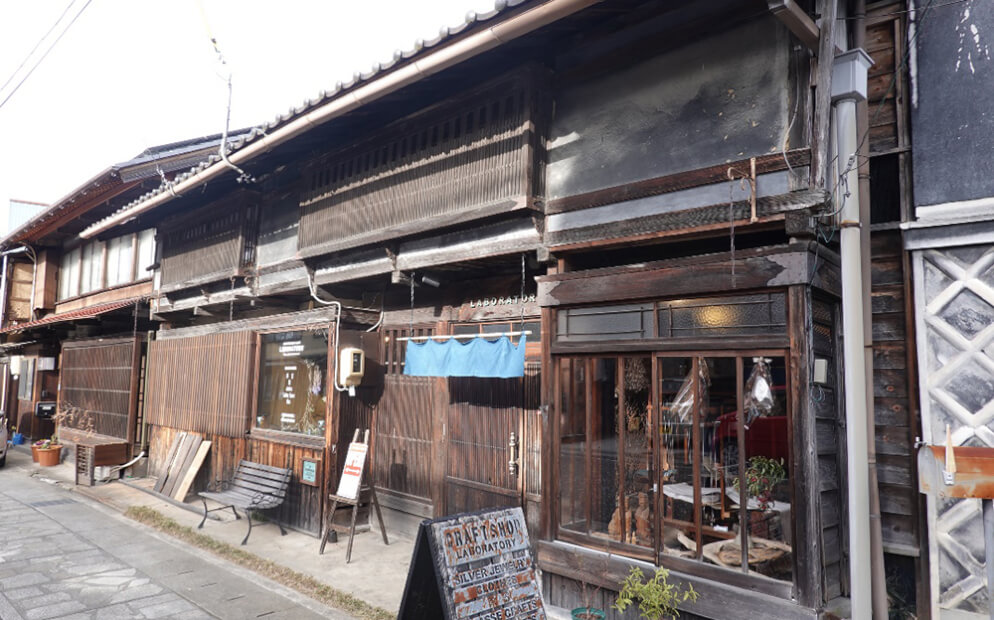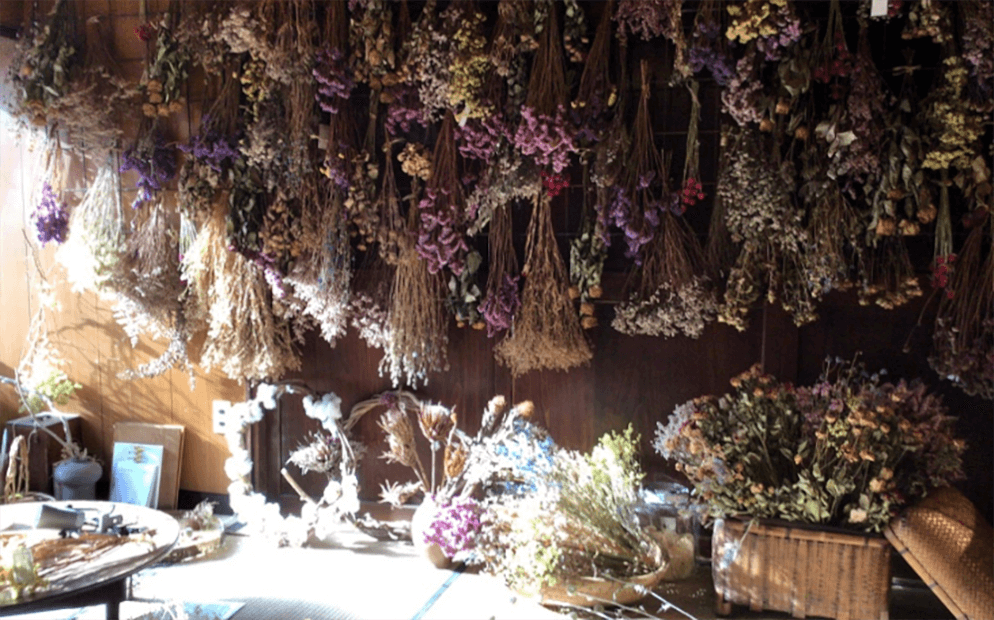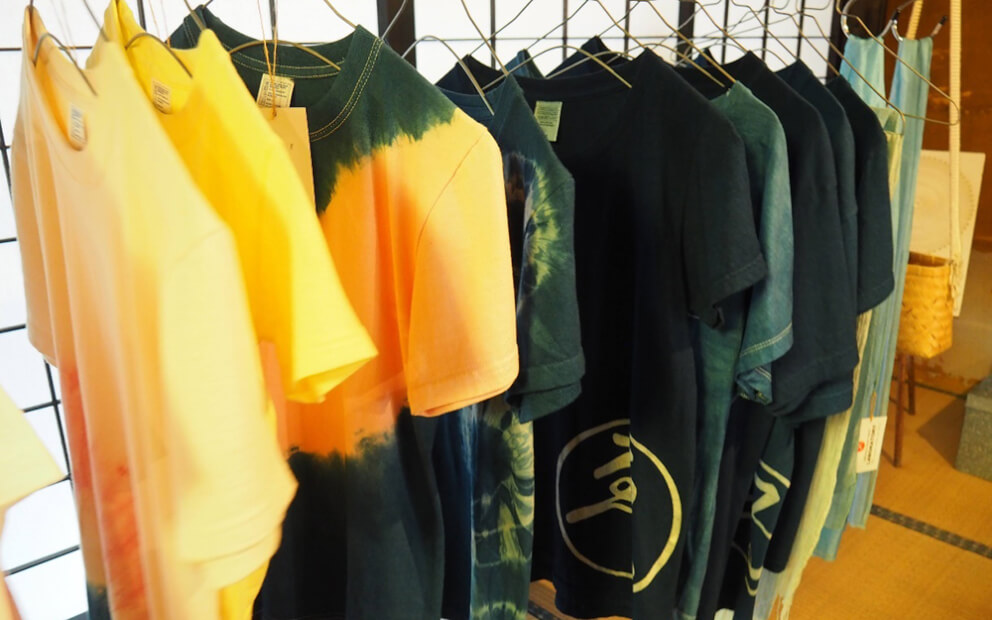 4 – Koufukuji Temple
Just a quick turn off of the Nakasendo is the Koufukuji Temple. The priest whose family runs this temple takes great pride in the ornate garden and religious items inside. They take the time and effort to teach you about their history, culture and beliefs in English (the lady of the temple speaks very well). A Japanese calligraphy experience is available here if booked in advance.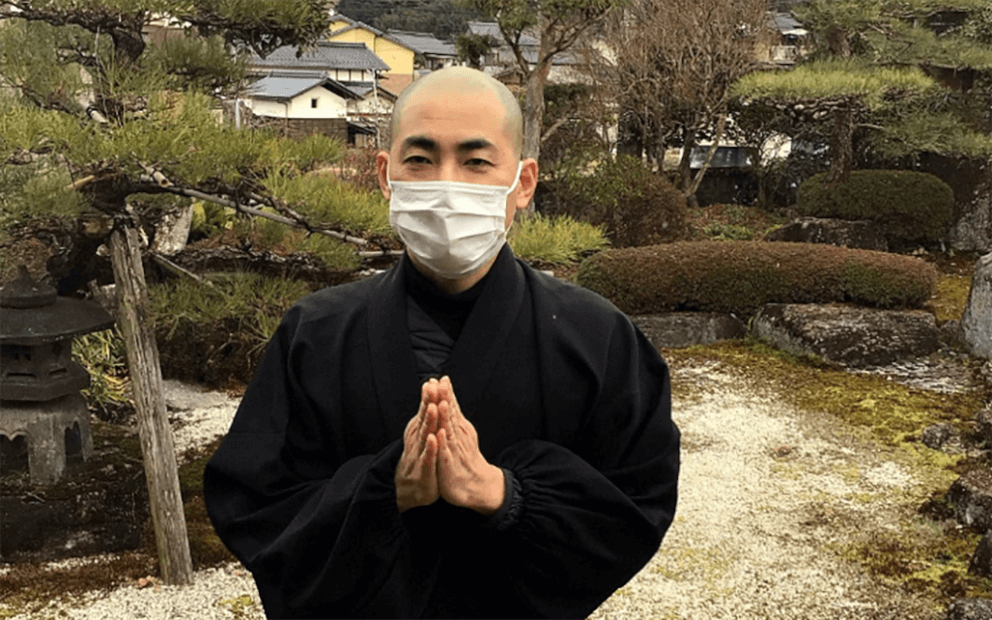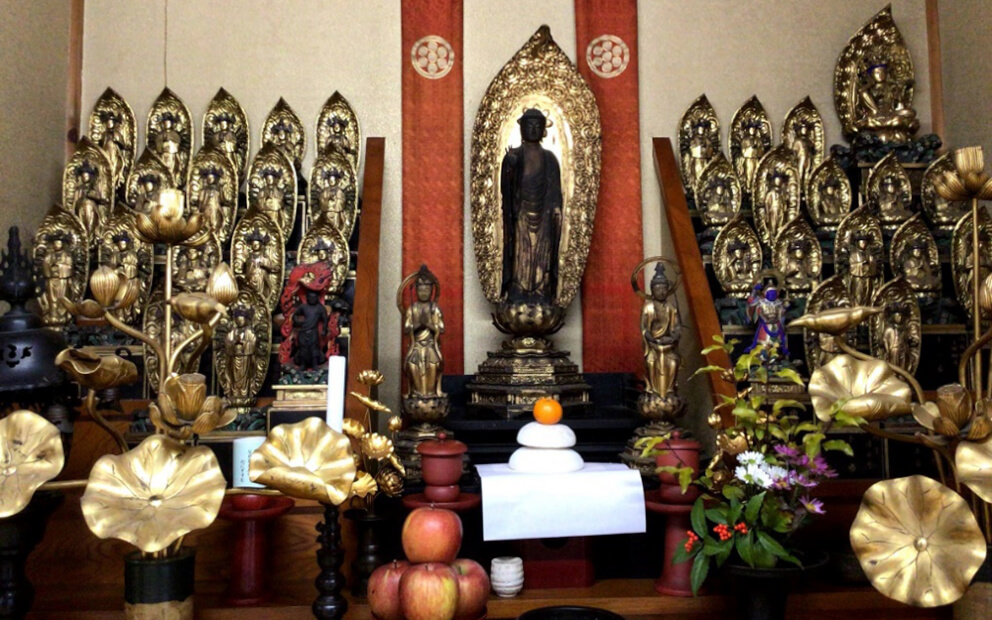 5 – Ochiai Stone Pavement
Around 20 minutes after departing from Ochiai Juku, you will find the Ochiai Stone Pavement. This 840m section of road paints a picture of samurai Japan in your mind. Prepare to be warped back in time, you might not even be surprised to see a procession of samurai carrying a daimyo in a palanquin. A lot of the cobbles date back to the Edo Period. Take photos among the trees and bamboo, or just walk, breath and take it all in.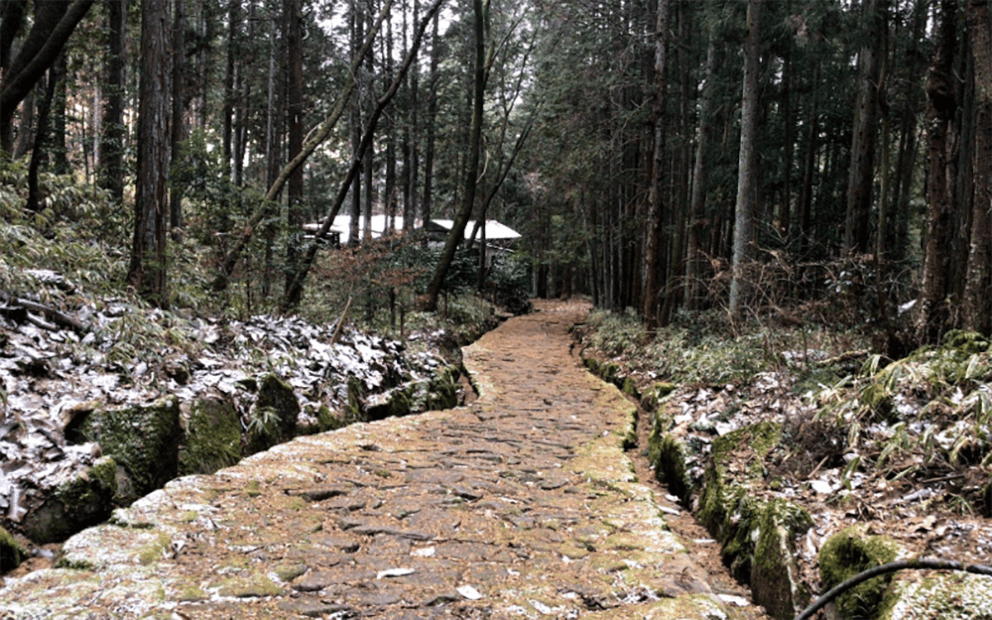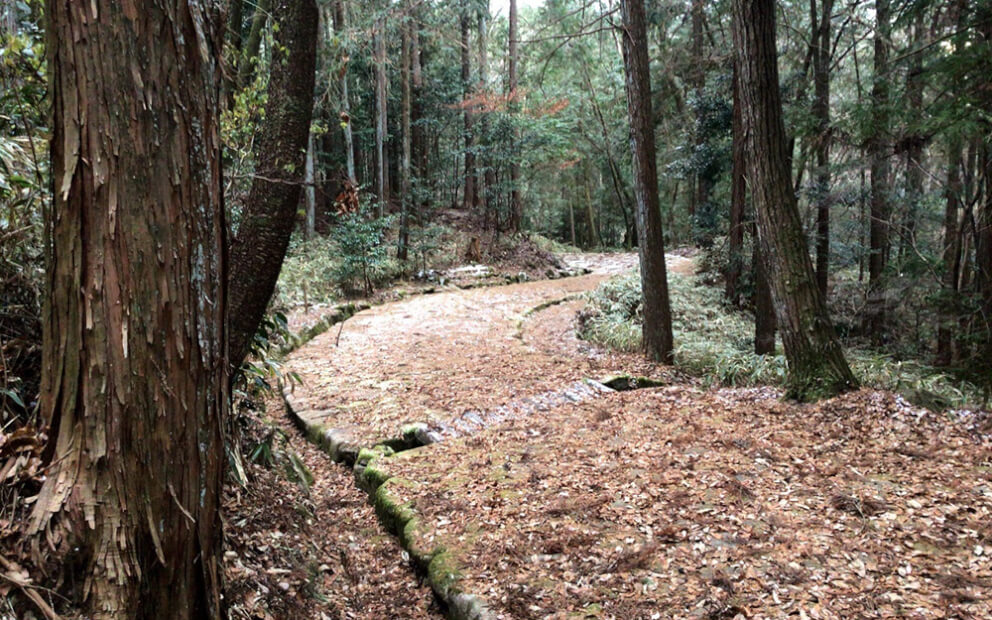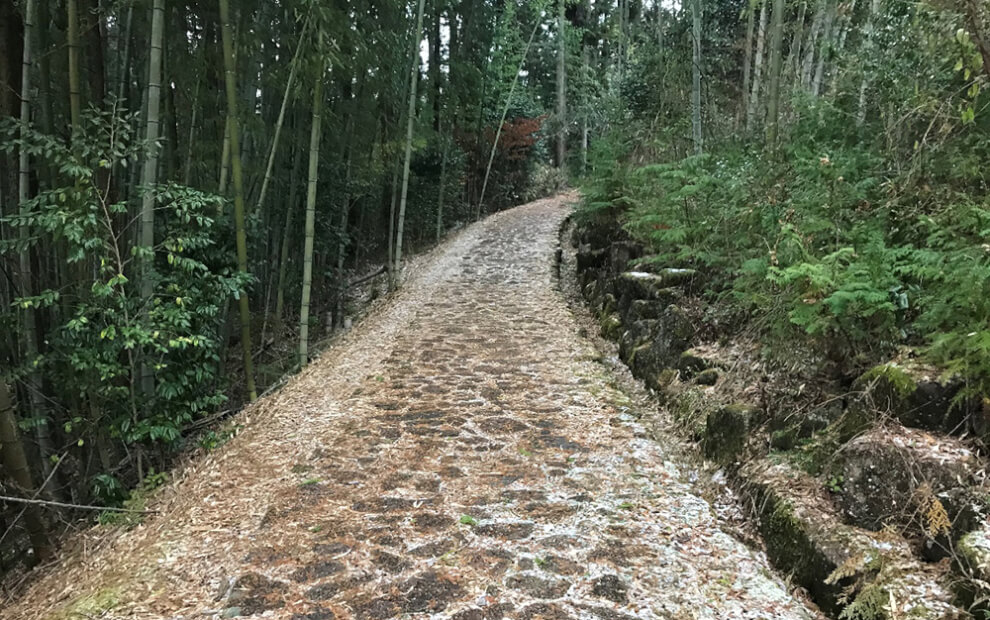 Another 40 minutes and you'll reach the end point of your hike. The amazingly well-preserved post town of Magome Juku looks out over sacred Mount Ena and the rice terraces that surround it. The steep and winding stone path is framed between historic buildings. You can't help but feel you are in a fairy tale from way back when. Many shops sell sweets, coffee and the area's famous woodwork items.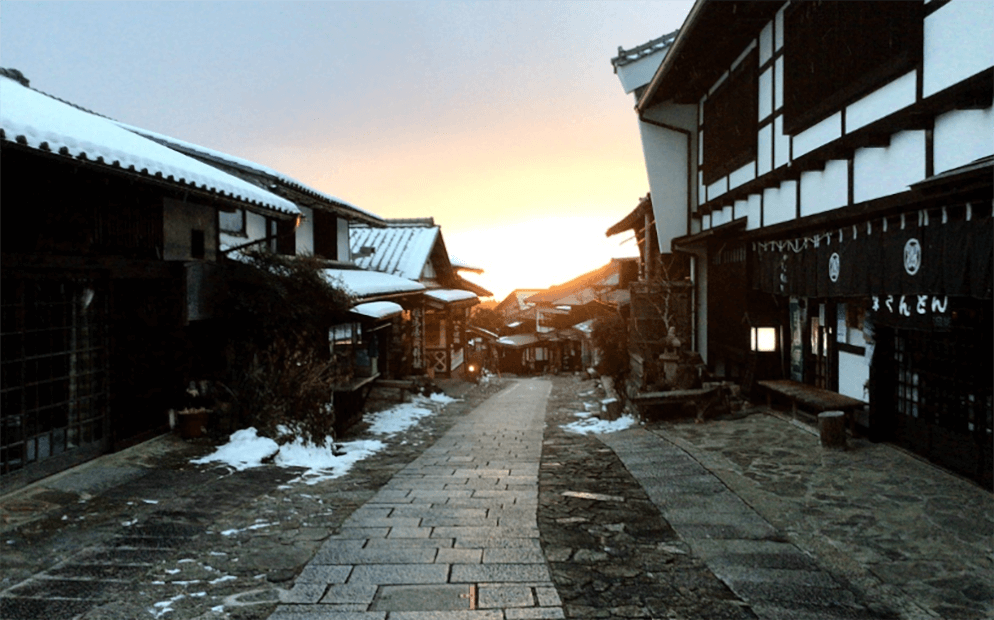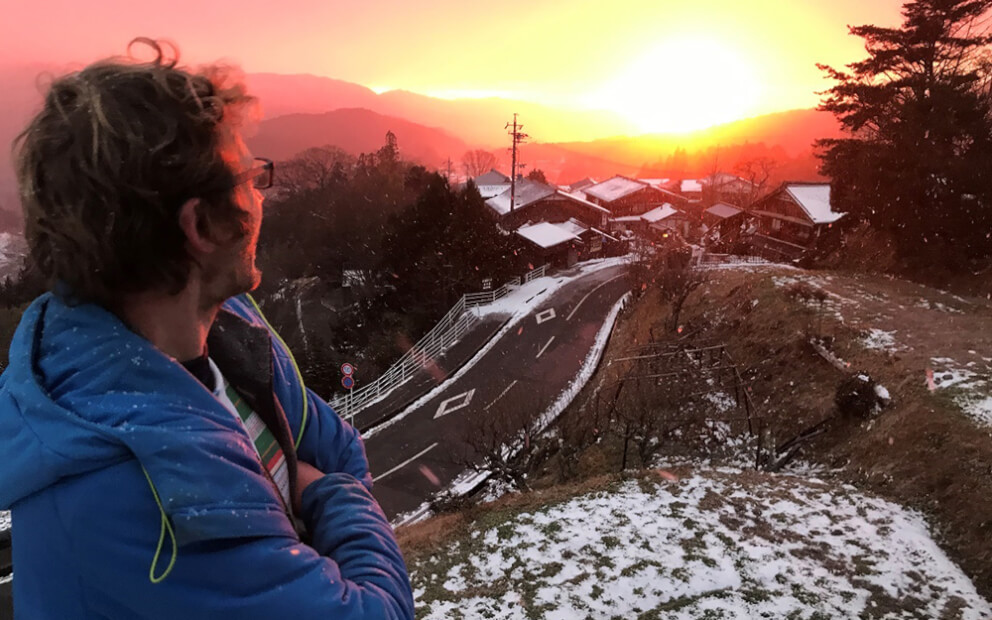 6 – Manpukuan-Eishoji Temple
Manpukuan-Eishoji Temple may be the best kept secret of Magome Juku. About 50m off of the Nakasendo. Large and beautifully kept, the priest and his wife offer 5 traditional tatami mat rooms to accommodate guests. Their Shojin Ryori (Japanese Buddhist vegetarian cuisine) meals cater to various dietary requirements. They will help you to try on a kimono, and practice Japanese style Zazen meditation. Bookings need to be made in advance.