A Michelin highly rated course! Experience Japan with a twist: a neo-classic route that combines big cities and rural areas, allowing you to get a three-dimensional view of the country. Cycling tours are combined with experiences, such as a pleasure boat ride or a visit to a miso brewery, for a unique experience that goes beyond mere sightseeing.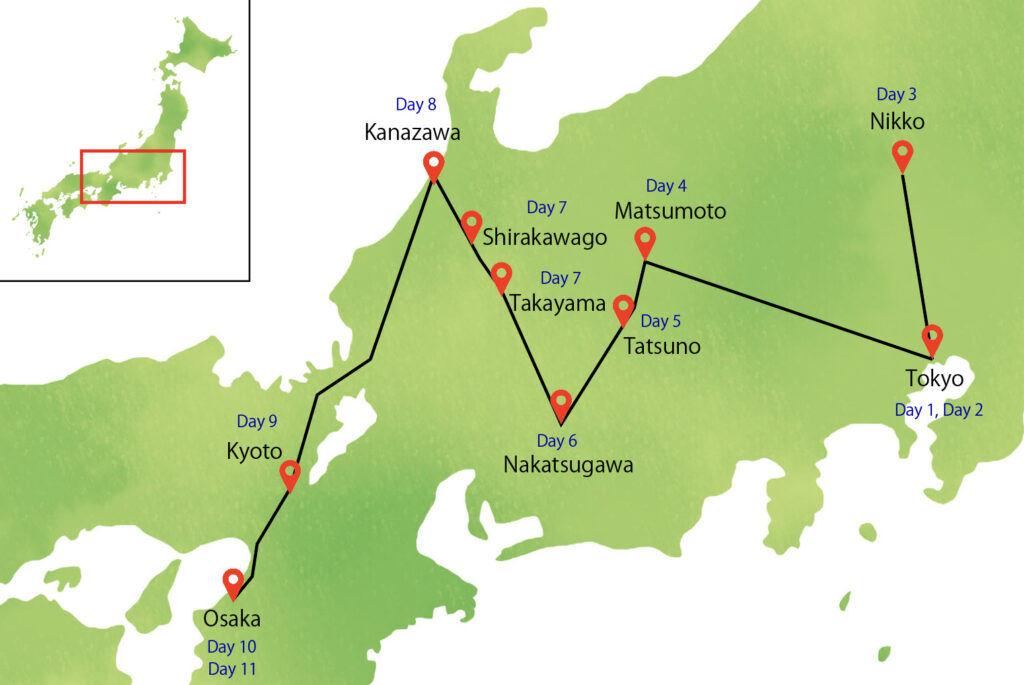 Overview
Tokyo and Kyoto are must-see spots for any visitor to Japan. Tokyo is a modern city with skyscrapers, pop culture, and nightlife, while Kyoto has been the setting of many Japanese historical events. This tour is designed for those who are not satisfied with merely seeing Tokyo and Kyoto, and who want to know more about Japan both actively and intellectually.
The route from Tokyo to Kyoto takes you through Matsumoto and Kanazawa, cities popular among Japanese. This tour also includes a visit to Shirakawa-go, a UNESCO World Heritage Site that offers a glimpse into the rural culture and lifestyle of Japan's ancient countryside.
The route connecting Matsumoto, Takayama, Shirakawa-go, and Kanazawa has been listed as a three-star destination in the "Michelin Green Guide Japon" and is now attracting attention in Japan.
Cycling
Enjoy Japan's historic cityscapes and nature at moderate speed and effort with e-bike tours conducted by Japan's leading cyclists.
One of these tours takes place in Nikko, home of the Nikko Toshogu Shrine, a UNESCO World Heritage Site dedicated to Shogun Tokugawa Ieyasu. Tokugawa Ieyasu was the last champion of the Warring States Period, which ended about 400 years ago. Nikko was
the site of a samurai invasion.
Another cycling area is the Kiso area in Nagano Prefecture where you can enjoy cycling along the post towns on the Nakasendo, the old road that connected Edo (Tokyo) and Kyoto. Also visit the Ina Valley where rice cultivation flourished in the olden days.
Required Equipment
We recommend you wear comfortable clothes that are easy to move in. Shoes of any type that are easy to walk in, such as sneakers, are acceptable. Gloves (especially in cold weather), a towel or handkerchief, and sunglasses are recommended. Helmets and bicycles are provided.
What is an e-bike?
An e-bike is a sports bicycle equipped with an electric power-assist function allowing you to ride with less physical effort. E-bikes account for differences in physical ability and allow everyone to proceed at the same general pace by reducing the physical and psychological burden of long-distance rides and mountain crossings and by allowing for riders of different ages, physical strengths, and experience. E-bikes can run more than 100 km on a single charge.
Cycling guide for this tour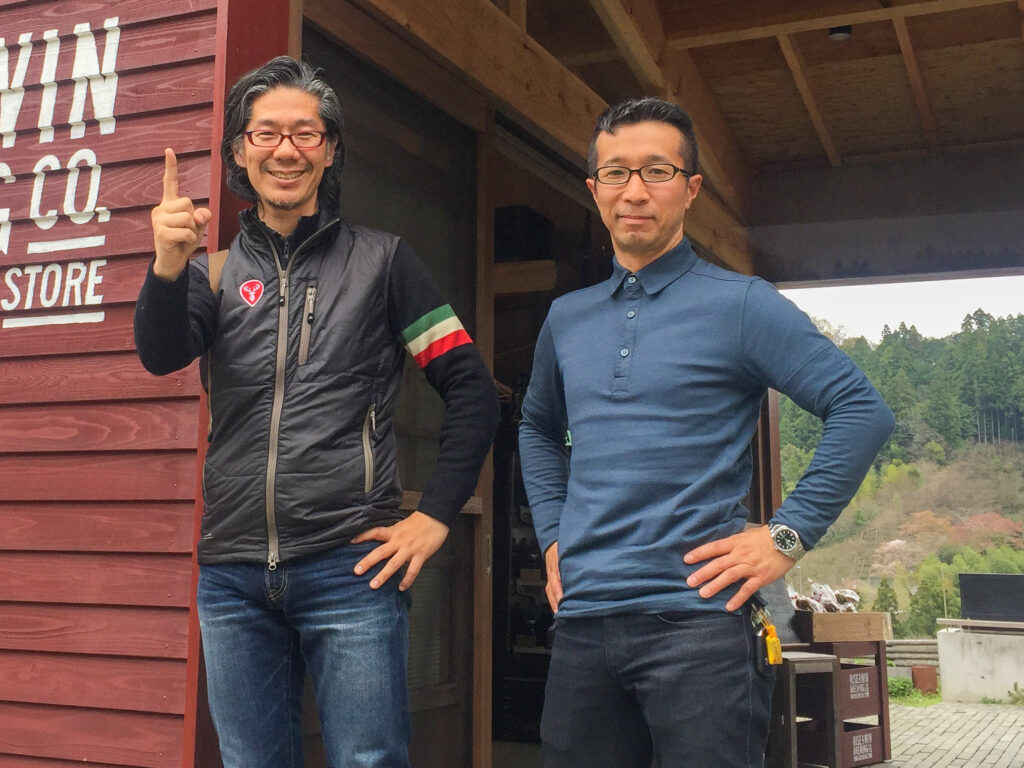 Tetsuya Yamamoto and his team.
Mr Yamamoto's passion for cycling ranges from competitive cycling to leisurely rides in daily life. He communicates through his social media and website about the new encounters and discoveries he makes through cycling. He is also passionate about bicycle-related events, and is involved in planning and producing events that bring new ideas to life in order to convey the fun and appeal of cycling. For this tour, Mr Yamamoto or his local team member will be your guide.
His cycling tours have become some of the most popular in Japan, with many participants from overseas. He is very knowledgeable about bicycle maintenance and equipment, and provides a safe and secure cycling experience.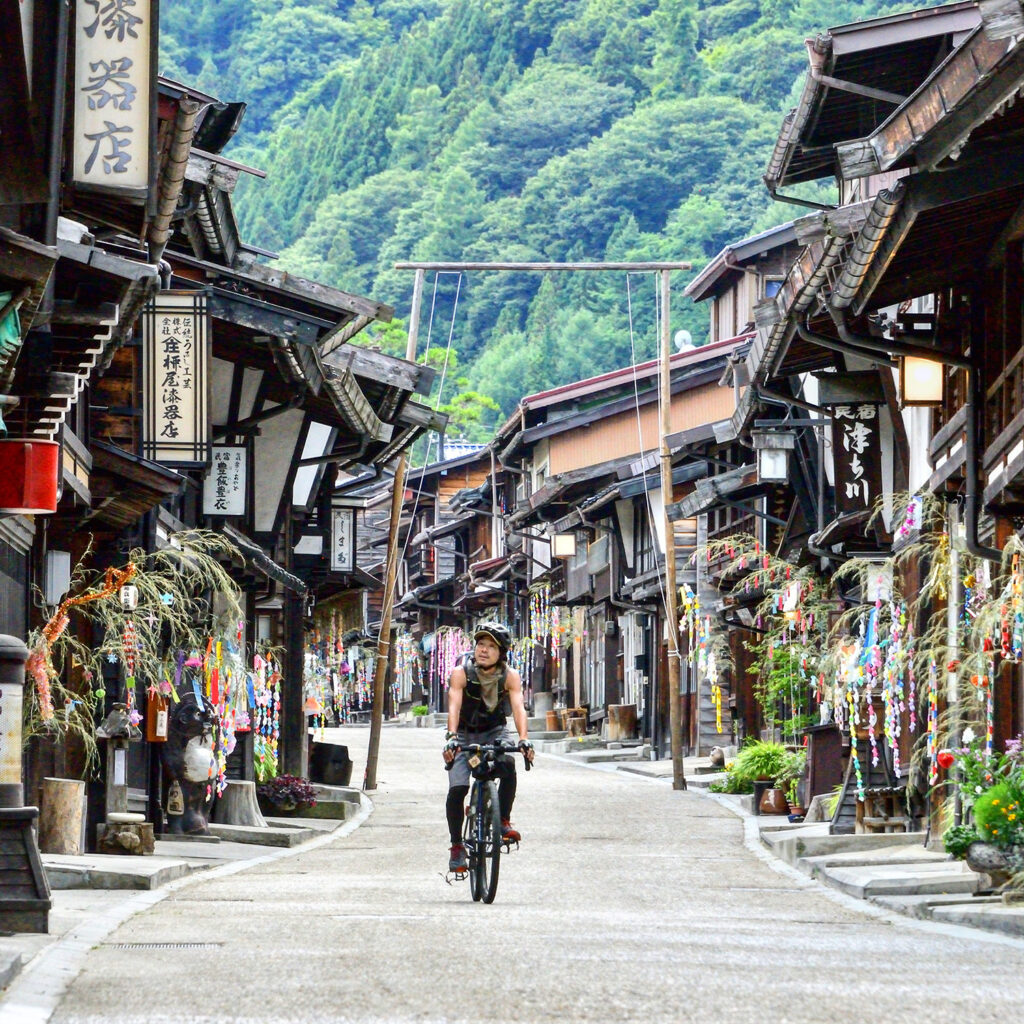 Ryohei Oguchi
Ryohei Oguchi is an adventurer who spent 9 years crossing 5 continents while traveling around the world. He is legendary in his hometown of Nagano, having racked up 160,000 kilometers through more than 157 countries, and written several books about his adventures. He is ranked third in the world in terms of the number of countries he has visited (as of 2023). "I wanted to accomplish something only I could do," says the adventurer about his round-the-world cycling pursuit. Participants find his soft and gentle personality captivating.
*Note: Navigators of our cycling tours in Kyoto are unspecified. Guides vary depending on the date of the tour.
Highlights
Tokyo: Enjoy Tokyo's nightlife in the traditional yakatabune pleasure boats (dinner included). Enjoy the excitement of Tokyo's popular tourist destinations via the underground trains (metro/subway)
Nikko: Enjoy an e-bike tour in Nikko, a city of history, nature and hot springs.
Matsumoto: Visit Matsumoto Castle (a national treasure), and a miso factory.
Nakasendo Road: Take an e-bike tour with a local adventurer in Narai, an old post town along the Nakasendo Road. Visit a local morning market in Takayama, a city with a beautiful historical landscape.
Shirakawa-go UNESCO World Heritage Site: Glimpse the old Japanese rural lifestyle and the architecture and steep thatched roofs of the traditional houses.
Kanazawa: Walk around Japanese gardens and lively shopping streets in Kanazawa
Kyoto: Enjoy a different kind of cycling experience around the city.