The relatively unexplored mountains of the Kii Peninsula, located in central Japan, are home to three sacred sites: Kumano Sanzan, Koyasan, and Yoshino-Omine. These three sites have nurtured a variety of beliefs, including Shintoism, Japan's indigenous belief which originated from a reverence for nature; Buddhism, introduced from China yet culturally reshaped in Japan, and Shugendo, which is a synthesis of both. In July 2004, these sites, the pilgrimage routes connecting them, and the cultural landscape formed over time by nature and human activity, were recognized by UNESCO as a common heritage of mankind, and registered as a World Heritage site, the "Sacred Sites and Pilgrimage Routes in the Kii Mountain Range."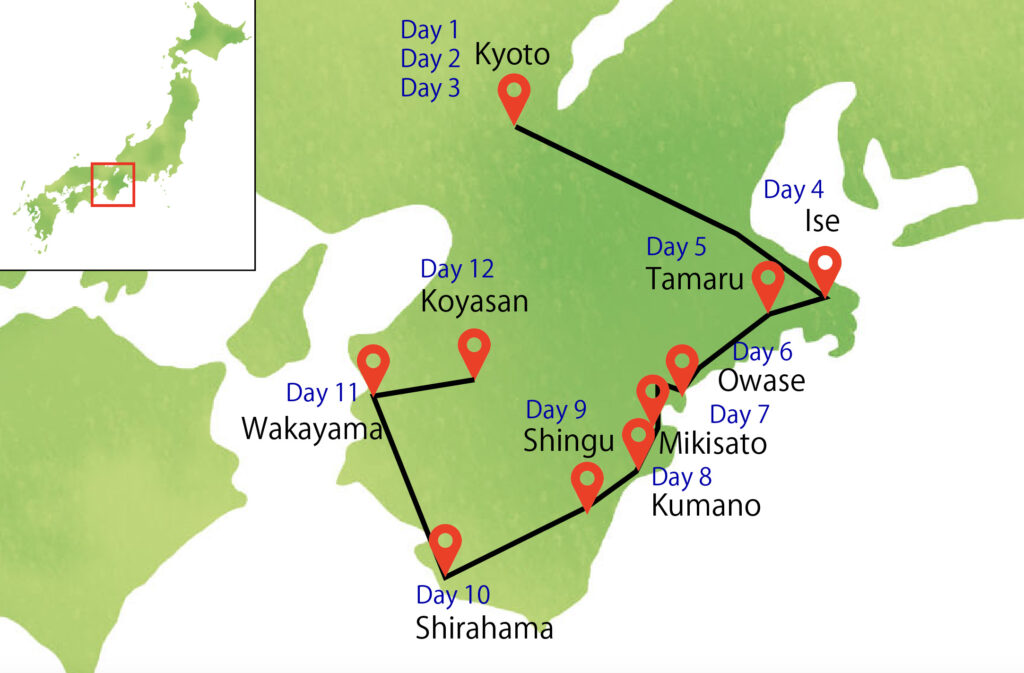 Overview
Shrouded in mysticism and folklore, the Kumano Kodo is an ancient series of five pilgrimage routes that link the three Grand Shrines of Kumano (Kumano Sanzan) with the rest of the country. Set in the otherworldly mountains of the Kii Peninsula, it is one of only two UNESCO world heritage designated pilgrimages in the world.
On this tour you will be taking the 160-kilometer Iseji coastal route, unique as a pilgrimageroute for its passage between mountain and sea. What makes this pilgrimage truly special is that it connects the Kumano Sanzan with the most important site in the Shinto faith, Ise Grand Shrine. Often referred to as the 'soul of Japan', this ancient holy site is home to Amaterasu, Japan's most divine deity, the Shinto Goddess of the Sun. Pilgrims in the Edo period travelled to Ise and the Kumano Sanzan after completing the Saigoku 33 Kannon pilgrimage, praying and accumulating merit as they went.
Travel in the manner of these pilgrims from long ago. The journey will take you off thebeaten track and deep into Japan's rural beating heart. Through fishing towns and rice terraces, mountains and coastlines, you will get to see the true beauty of the countryside. The Iseji Route receives far fewer tourists than other routes. As a result, there is a tangible authenticity in the places you will go and the people you will meet. What's more there will be plenty of opportunities to chat with locals, hear traditional tales and get hands-on in with their culture.
Please note that this tour is a physically demanding and requires a certain level of fitness. It may not be suitable for people with no hiking experience or with mobility issues. For more information, please contact us.
Highlights
Hike along the ancient Kumano Kodo Iseji pilgrim path, stopping off at small towns and taking in breathtaking sights along the way.
Visit Ise Grand Shine, the most important site in the Shinto faith.
Visit all three of the Kumano Grand Shrines (Kumano Sanzan), completing the mission of your pilgrimage.
Enjoy a special purification ceremony featuring Wadaiko Japanese drums at a Shinto shrine.
Kayak down the coast in a section of the pilgrimage historically taken by boat.
Get hands-on with cultural experiences during the tour, with special opportunities such as a local style sushi-making class.
Explore this beautiful region and meet the locals as your trip helps to revitalize the rural area.
Explore the mountain sanctuary Koyasan, whose 1200 years of history are portrayed in the massive cemetery for most of Japan's historical giants, and in the ancient trees that tower high above all.