This tour takes participants to various locations across Iwate, which was once considered to be the 'ideal land' by the Samurai who settled there.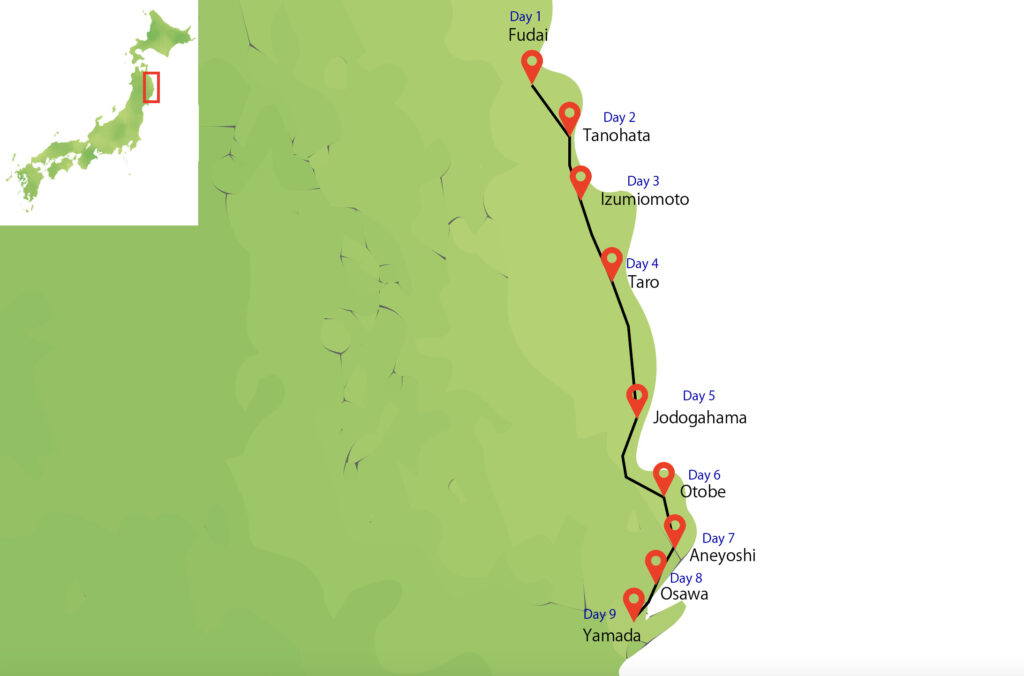 Overview
Heartland JAPAN's "Michinoku Trail" tour is a guided hiking along the coast of Iwate Prefecture in the North of Japan, which terribly suffered from the tsunami in 2011. In this journey we will guide you in the Michinoku Shiokaze Coastal Trail and you will walk along the Sanriku Coast, to enjoy the eastern side of Japan's northern Tohoku area and its breathtaking views, cliffs and beaches.
This 9-day tour starts at the stunning Anmoura Viewpoint but the starting point can be changed to the Iwate Hanamaki airport, depending on the arrival time. We are also able to arrange a private car, if for any reason a participant can't continue with the hike.
The hike is suitable for those who can walk for many hours (from 6 to 10) without distress. The route is not harsh, but the long hours and the daily length covered by this hiking tour require to be physically trained.
Attention: A local guide will lead the group during the hiking, but in any case, we ask to the participants to always exercise caution.
Some parts of the Michinoku Coastal Trail lack pavements for pedestrians, or have roads with heavy traffic. When walking on the trail, please follow the traffic rules and pay careful attention in order to prevent accidents. On roads without pavements, pedestrians should walk on the right side of the road.
Highlights
Anoumura Viewpoint - from here, you can look down at Anmoura Falls, the tallest waterfall in Iwate Prefecture.
Aketo Seawall Memorial - this broken seawall was left as it was so that people will not forget the danger of Tsunami.
Place of Origin for Sanhei Uprising - the local population of this area revolted twice in 1847 against a hefty temporary tax.
Moshi-ryu Fossil Site - Site of Japan's first dinosaur fossil.
Tsunami Monument "Taro Kanko Hotel" - this hotel was destroyed by a 17 meter high Tsunami, and its ruins became a monument.
Uiso - the contrast between the black of the rock and huge cliffs, the blue of the ocean, the white of the waves and the dark green of the pines make this a famous location.
Aneyoshi Stone Tsunami Monument - The Aneyoshi area of Miyako suffered serious damage in the past due to Tsunami. The 2011 Tsunami reached over 40 meters at this point. According to a stone monument in the village, there were only two survivors from the 1896 Tsunami, and four survivors of the 1933 Tsunami: this village was destroyed every time a major tsunami struck.
Aragami Swimming Beach - this spot boasts impressive scenery of bright sand and clear blue water, along with a shrine (Ara-Jinja) with unclear origins.