Enjoy travelling like a pilgrim along paths less travelled as you explore the coastlines, forests and towns of Shimane – a Prefecture commonly referred to as the 'Land of the Gods' thanks to the important role it has played inspiring Japanese mythology and folklore for more than a thousand years.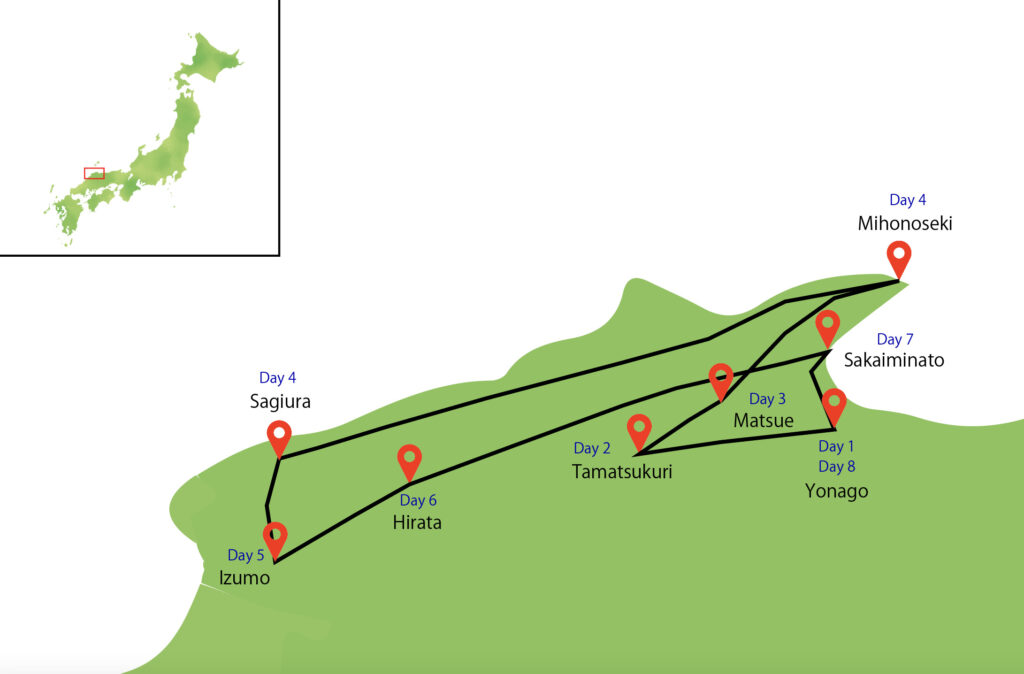 Overview
Shimane Prefecture – much loved by Heartland JAPAN staff and guests alike – is situated within Japan's Chugoku Region and straddles the coast of the Sea of Japan. Here you can find the Shimane Peninsula, boasting both coastal and mountainous landscapes and home to some of Japan's most captivating history and mysteries. Shimane Peninsula was once upon a time a well-known destination for its pilgrimage of the Forty-Two bays: pilgrims would stop to each one of these seashores and worship the Gods at the nearby shrines, often famous for hosting spirits.
Nowadays the Peninsula still hosts some events dedicated to this Pilgrimage, and it is also the perfect escape for anyone who wishes to truly experience the wonders of Japan while immersed in its natural beauty and inspiring legends. As you make your way across the area, you'll soon come to understand why Shimane was supposedly chosen by the Japanese Gods as the best location in the country to host their yearly conference.
But there's more to discover, as Shimane Peninsula is not what you would expect from a classic spiritual destination: Ghosts and Gods, beaches and breweries – our specially-crafted Heartland JAPAN tour has it all. What's even more, you'll have ample opportunities to meet and build genuine relationships with the people who live and work within the prefecture; from livelihoods to legends, the enthusiastic locals are eager to share their knowledge, experiences and passions with you not as a guest, but as a friend.
An unforgettable adventure awaits.
Highlights
Treat your tastebuds to a traditional 'Shojin Ryori' dinner - a truly special dining experience inspired by the eating habits of vegetarian Buddhist monks
Take a dip in the rejuvenating and healing waters of the "Onsen of Gods", believed to be the oldest in Japan
Learn about the works and ghost stories of Lafcadio Hearn, who wrote the internationally-appreciated "Kwaidan: Stories and Studies of Strange Things" inspired by Japan's ancient legends
View the stunning coastal landscape of Kaka Bay from a new perspective on a special boat tour
Visit Hinomisaki Lighthouse - the tallest in Japan - and explore the local shops that surround it
Pay your respects at Izumo Taisha, one of the most ancient and important shrines in the country
Travel around the prefecture by bicycle for a truly immersive adventure 'off the beaten track
Sample local produce on a tour of a soy sauce factory and sake brewery