Tracing the History of Setouchi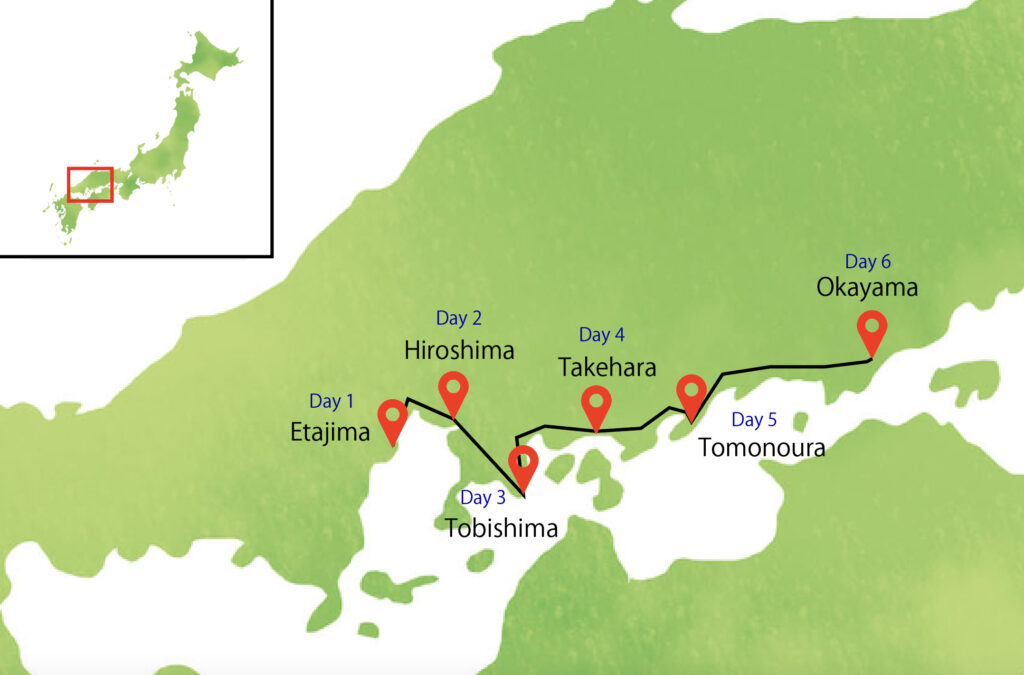 Overview
The Setouchi(The Seto Inland Sea) is more a road than just a sea. As people came and went along this Setouchi as the "Sea Road" (Setouchi Coastal Highway), Japanese culture and history were born. Upon this stage on which the history of Japan was made, everything about the culture can be found, from the most ancient times to the present day.
This is the "Setouchi" the way of the sea.
The road is shaped by nature and the way people live. It is a road shared by horseshoe crabs, black finless porpoise(Neophocaena phocaena), wild birds and even people.
Since time immemorial, Japan has been shaped by these roads. And the road continues to evolve. Along this road the sanctuaries of 'history', 'art' and 'nature' can be found now.
This is the "Setouchi" a microcosm of Japan.
Today, Setouchi is the most popular destination in Japan for its gentle sea, warm climate, and slow pace of life of the islanders.
In this tour, we will learn about the history of Japan in the Setouchi area, which has been the setting of many Japanese historical events. This tour is ideal for those who want to learn more about the origins, history, and culture of Japan from ancient times to the present day.
Highlights
Heian, Sengoku, Showa: Hiroshima is home to two World Heritage Sites. The iconic Itsukushima Shrine can be reached by a cruise on the Setouchi Sea, and the symbol of peace, the Hiroshima Atomic Bomb Dome, is accessible by SUP paddling on the river that flows through the city.
Edo Period: From Tobishima Kaido, which was once a busy port of call for Kitamae merchant ships, enjoy island hopping by bicycle while viewing the Setouchi Sea up close.
Edo Period: The town of Takehara prospered in the Edo period (1603-1868) due to the production of salt and sake. Even today, many mansions and sake breweries still remain in the townscape preservation area, conveying the image of the past. While in Takehara, we will visit a traditional bamboo craft workshop and a sake brewery.
Edo Period: Tomonoura is the dividing line of the tides of the Setouchi Sea. Stroll the town as you contemplate its history, which flourished as a port for waiting the rising tide.