Hiroshima, located along the Seto Inland Sea, is known as a city of peace. Nearby you'll find Miyajima, a sacred island registered as a UNESCO World Heritage Site. This trip takes you to these famous spots in addition to a small island in the Seto Inland Sea called Etajima, where you can experience the slow-paced island lifestyle. Additionally, you can visit the quaint, peaceful castle towns of Hagi and Tsuwano on the Sea of Japan in the San'in region, one of Japan's most rural areas.
This tour is suitable for those who want to experience a different side of Japan and includes walking and cycling to make it a more active experience.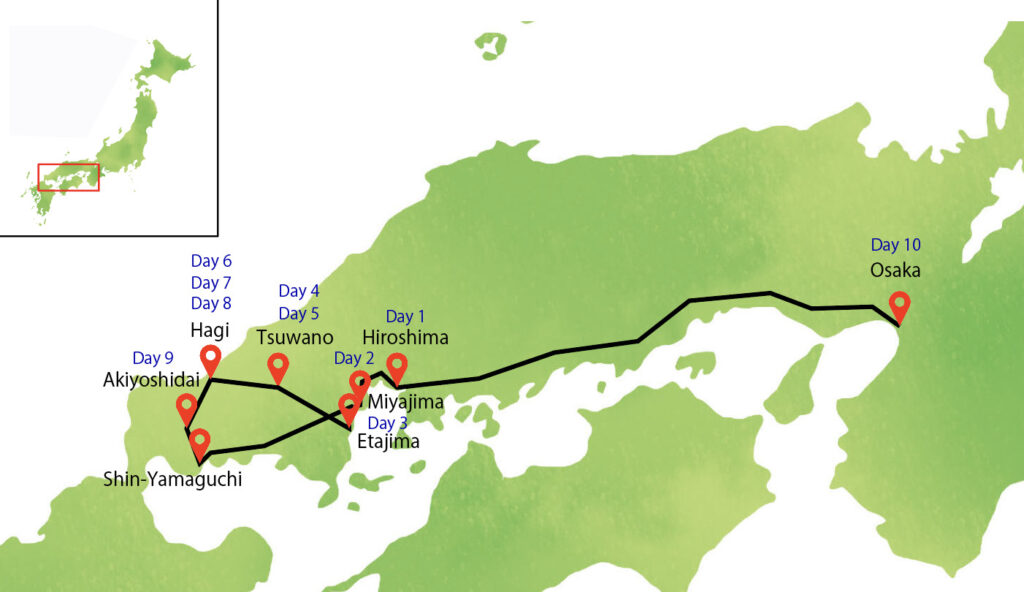 Overview
If you're visiting Japan, you'll surely want to visit Hiroshima, but this tour offers more than the touristy parts of the city. Explore unique aspects of Hiroshima by interacting with local guides and delving into the legends and way of life of the people. Hiroshima city and Miyajima island are located on the Seto Inland Sea, one of the warmest and calmest bodies of water in Japan. The people on Etajima live a slow island lifestyle and you will have a unique opportunity to connect with them.
On the opposite side of Honshu, along the Sea of Japan, is the Sanin region, known for its quiet rural areas. Small castle towns in Tsuwano and Hagi, previously populated by samurai, are sure to be a hit for those seeking hidden gems. In Tsuwano, you'll find spots associated with Shintoism, Buddhism, and Christianity, while Hagi is a town where samurai gleaned information first-hand from advanced Western countries during Japan's Meiji Restoration.
Enjoy this rural tour of the most western tip of Honshu, where you can combine walking and cycling to access lesser-known areas. If you have a sense of adventure and yearn to go somewhere different, this tour is for you!
Highlights
Guided hiking on Futabayama Mountain, a small mountain near Hiroshima Station, with a local volunteer group.
Peace-themed fun-ride cycling tour for those who want to learn more about Hiroshima city and the stories of its residents beyond just the tourist spots.
Visit Itsukushima Shrine on the island of Miyajima, a UNESCO World Heritage site.
Experience local cuisine and cooking. Craft traditional paper cloth of the region on Etajima, an island in the Seto Inland Sea, while enjoying the slow, local way of life.
Participate in a zazen meditation experience at a temple among a beautiful Japanese garden in Tsuwano. View Kagura, a traditional performing art. Enjoy a Japanese tea tasting experience.
Take a sake brewery tour complete with enjoy tasting of a special sake served by the Prime Minister at diplomatic occasions when foreign dignitaries visit Japan.
Try your hands at making Hagi-yaki, a traditional pottery symbolic of Hagi.
Walk through a camellia tree forest and cycle around the castle town of Hagi.
Walk on Hagi-Okan, a historic road beloved by the locals and used by samurai during the Meiji Restoration who contributed to Japan's modernization.
E-bike cycling through Akiyoshidai Geopark, Japan's largest karst plateau, and explore off-the-beaten-path routes to visit Akiyoshi-do, Japan's largest limestone cave. These hidden paths are a highlight not available through regular tours.