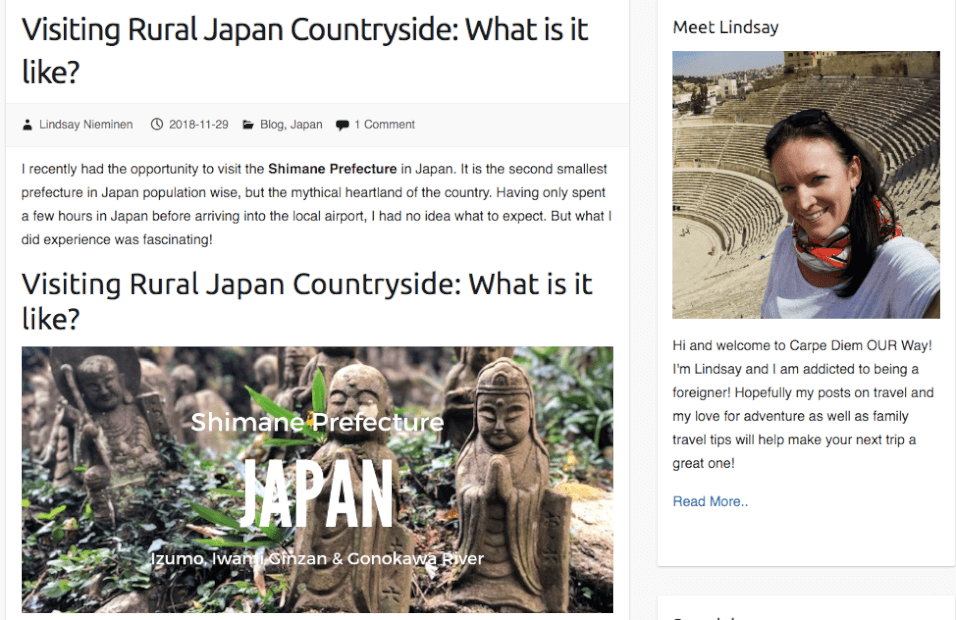 Quotes from original article…
Visiting Izumo
We arrived into Izumo Airport, a rather small and local airport and were quickly brought to a microbus for our 4 day trip. With 8 others, I was a guest of Heartland Japan, a local operator who is bringing foreigners into emerging markets like Shimane Prefecture.
We visited Tachikuekyo Gorge and a rather easy walk along the Kando River. For me the highlights were over 1400 Buddha statues nestled in the rocks. Locals consider this one of the hidden treasures of the region, as very few visitors, whether domestic Japanese tourists or International visitors (which there are a staggering few). There was also a hot springs that looked over the river, I wish we had had time to use one! I was looking forward to "bath time" on each day's Itinerary!
Hands on Experiences: Off the beaten Track Japan
We were able to visit both a local pottery shop and a local artist, where in both places we got our hands dirty creating a piece of pottery and painting a mask. After taking in so many sights and information, I love having the chance to take a class or learn from an artist as I travel.
A Sake Brewery tour was also on our itinerary. We got to meet the 4 men who are responsible for crafting the sake and learned all about how much perfection is required to achieve a great batch. So much about what I love about travel is meeting locals. The problem with rural Japan, is that you will not find many English speakers, even in the Ryokans. The larger hotels had English speaking front desk staff, but with limited International visitors, it is not a region with a lot of Enlish speakers in their tourism department. Another vote for why taking a tour with a guide who can do the translating for you is a good idea!
Soft Adventure Meets Sustainability
Adventure comes in all forms, whether it is an exotic destination, an extreme activity or a unique experience, it all connects to adventure travel. What I really liked about traveling in the Shimane prefecture with Heartland Japan was that we were able to explore on foot. While we had a microbus for pickups and drop offs, sometimes we did not see the bus for most of the day. It was not a get off the bus, take a photo and get back on the bus type tour. We would be dropped off, sometimes in the middle of nowhere and met with local guides, keen to show off the history of their small Japanese towns. Some days we walked over 10 kilometers. But most of that was leisurely wandering small towns, not hiking. This is an area best seen on foot, and the lack of traffic (and people) makes it an easy thing to do.
One thing that did bug me in Japan was the amount of packaging on everything and denying a plastic bag every time I bought anything. If sustainable travel is important to you, purchase a pair of chopsticks to carry with you to avoid the disposable ones. I did like that the onsen's had large shampoo and conditioner bottles rather than the small one use bottles that are so often seen in hotels.


Click the button below to read the full article.