The Seto Inland Sea is a body of calm water that lies between the Japanese main islands of Honshu, Shikoku and Kyushu, stretching for 490 kilometers from Osaka to Kitakyushu. The Seto Inland Sea includes about 3000 islands – many of which are inhabited – blessed by a mild climate and a relaxed atmosphere, often compared with that of the Mediterranean Sea's islands.

Heartland Japan would like to invite you on a journey, starting from this beautiful sea, and heading to the inland of three Prefectures which face the Seto Inland Sea: Okayama, Hiroshima and Yamaguchi.
In this page, you can find ten short tours to discover the deep culture, tradition, history and to appreciate the wonderful landscape of these Prefectures. Tasty food experiences are included, too! Check the tours out, and download the PDF file with prices and all the details.
Island Hopping Around Kasaoka
A two-day Tour on a Private Boat in Okayama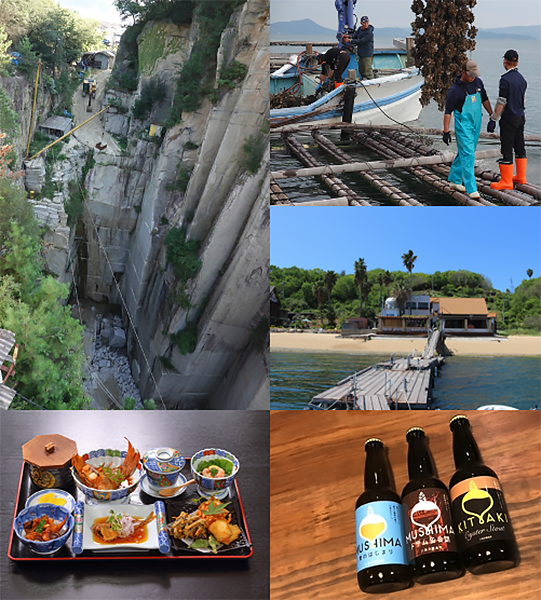 Leisurely hop around the islands of Kasaoka on a private boat with Amy Chavez, an American who lives on Shiraishi Island. Enjoy the scenery of each island with learning about the history and meeting the people on them.
Fisherman Experience – Board the boat of a local fisherman and check out some oyster rafts up close. You can even try walking on it. Back on the boat, enjoy a glass of wine to go with some fresh oysters.
Stonecutting Valley Observatory – Kasaoka's largest island, Kitagi Island, has long been known as "Stone Island" for its production and processing of granite stones. The high quality of stone on this island has been used in famous buildings such as Osaka Castle, Meiji Shrine and Tokyo Station. The quarries on the island are still in use today and there is an observation deck looking 100 meters down into a quarry located below sea level.
Santora, ryokan inn born from an old elementary school –
This is where the French artist, Florent Chavouet, stayed while creating his picture book of Manabeshima Island. It is a popular accommodation for Europeans, especially the French.
Fresh Local Seafood and Craft Beer –
As you hop around the islands, enjoy meals prepared using the freshest local seafood. There is also a vegan café on Shiraishi Island and a local brewery on Mushima Island.
---
A Walk Around the Pottery Town Imbe and Bizen-yaki Pottery Making
Half-day Tour of Clay and Fire in Okayama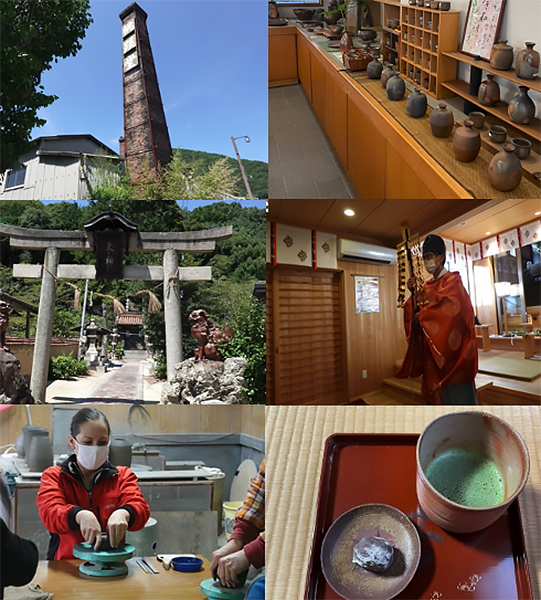 Bizen-yaki, with its simple sheen and calming characteristics, has represented Japan since the middle ages. In the hometown of Bizen-yaki, Imbe, take a walk around a neighborhood of kilns and experience making your own pottery.

Stroll Around Imbe – Imbe is a pottery town with a unique atmosphere and mountains surrounding the numerous kilns in the area. With an English guide, feel the atmosphere of both the past and present while walking around Imbe and stopping by various kiln galleries and kiln ruins.

Amatsu shrine – The potters of Imbe visit this shrine to pray for good work every year. It has become a keystone for these potters, which is why you will make a stop here before making your own Bizen-yaki pottery.

Bizen-yaki Pottery Making – At the Tokeido Pottery Workshop, make your own one-of-a-kind pottery such as a vase or cup. It involves simply forming the clay with your hands, so anyone can do it. After the activity, you will enjoy a cup of matcha green tea from Bizen-yaki ware.
---
Tomonoura History Walk, Shakyo Experience, and Kayaking
Fully Enjoy Tomonoura From Land and Sea in Hiroshima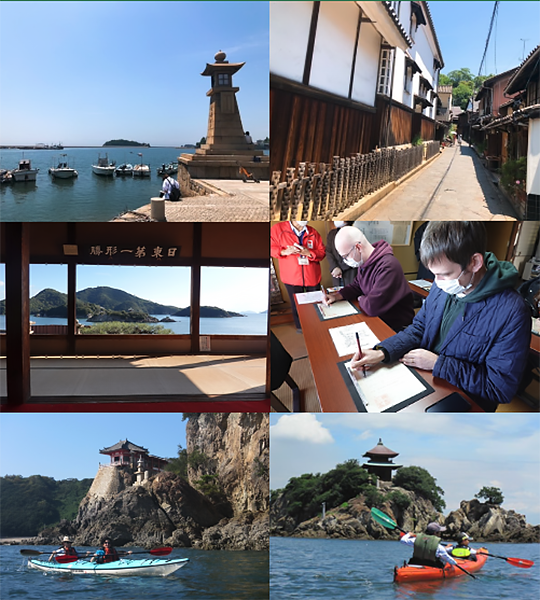 The scenic beauty that is Tomonoura is an important place for sea transport of Setouchi and is even recited about in the oldest book of Japanese poems. The splendid scenery of this town is said to be the setting of a popular animation movie. Fully enjoy this port town through traditional culture and outdoor activities both on land and at sea.
History Walk –
Tomonoura was a bustling port town in the Edo Period. The families of the town have worked hard to preserve the stone lanterns, temples, and shrines of that time. Gaze out at the ocean while hearing stories from an English guide and visiting the neighborhoods and old ruins of the Tomonoura.
Shakyo (sutra writting) Experience –
Taichoroh, facing out at Sensui Island, is said to make even a hermit drunk with its beauty. The view from here is praised as being the most picturesque site in Japan. Try experiencing shakyo, transcribing sutras, at this historic temple.
Sea Kayaking –
Heading south from Tomonoura, paddle along while looking out at the coastline of a national park. Along the way, make a stop at Abuto Kannon Temple.
---
Setouchi Cycling and Mitarai Area History Walk
Comfortably Enjoy a 2-day Tour of Tobishima Kaido in Hiroshima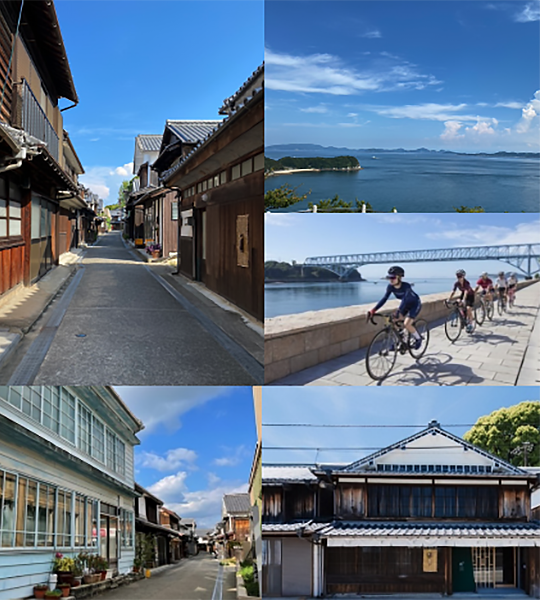 The name Tobishima Kaido comes from the idea of connecting 7 islands of the Seto Inland Sea like stepping stones of a Japanese garden. Feel the breeze on your skin while cycling through the beautiful scenery of Setouchi.
Cycling –
Pick up the bike on Shimo-kamagiri Island and ride through a maintained cycling road 40km to your destination of Mitarai. Ride at your own pace while enjoying all the wonderful scenery of Setouchi.
Shintoyo, an accommodation with over 150-year history –
An accommodation with a limit of one group per day where you can feel the history of Mitarai and wonderfulness of Setouchi. Dinner is a creative kaiseki course focusing on the wonderful seafood and mountain ingredients from this area.
History – Walk Around the Mitarai Protected Area
This history walk will be led by Tom Miyagawa, an Englishman living in Mitarai. Walk around the area while listening to stories of the town's history and seeing the lifestyle of the locals.
---
History Walk, Bamboo Crafting, and Sake Tasting
Half-day History and Culture Tour of Takehara in Hiroshima
Takehara is called the little Kyoto of Hiroshima. It was a bustling town of salt and sake producers in the Edo Period. Now, there are many buildings and districts with sake breweries that are preserved to pass on the townscapes of the past. Make a visit to a bamboo craft workshop and sake brewery on this tour or Takehara.
History Walk –
Take a step back in time while leisurely walking with an English speaking guide through a town full of wealthy merchant homes, historic temples, latticed nagayamon gates, shikkui plastered walls, and more.
Bamboo Crafting –
After watching a master craftsman's bamboo artwork, you can try making your own bamboo basket while receiving instruction from the local craftsmen.
Genuine Sake Tasting –
The tasting room of Fujii Shuzo, a sake producer of more than 150 years, is a very traditional Japanese room facing a beautiful Japanese garden. You can try a variety of different kinds of sake, each with a specific glass to match the flavor. You'll receive a bottle of sake as a souvenir.
---
History Walk Around the Town of White Walls
with Kingyo Chochin Craft Activity and Soy Sauce Factory Tour
Guided Town Walking Tour in Yamaguchi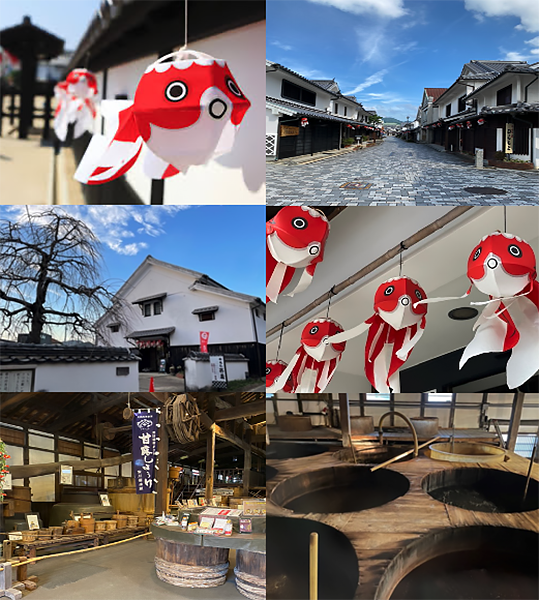 Yanai, a town of white walls and Kingyo Chochin (paper goldfish lanterns), is blessed with an abundance of nature and the calm Setouchi climate. Historically, Yanai is known as a commercial town. Take a walk through the small roads full of white walls, a flashback of the old days.
History Walk –
This area has been selected by the country as an important preservation district of historic buildings. Walk the beautiful white wall filled streets with an English spekaing guide.
Kingyo Chochin Making –
A traditional craft of Yanai for a few hundred years, the goldfish paper lanterns resemble something from the Nebuta Festival of Aomori. Inside of the well-preserved white wall warehouse buildings, make your own goldfish paper lantern by drawing eyes and body, then attaching the fins and tail.
Soy Sauce Factory Visit –
Kanro Soy Sauce has been made using a traditional method since the 1800s. At Sagawa Soy Sauce Brewery, see the production methods and tools used to make Kanro Soy Sauce which is fermented in cedar barrels. Hear directly from a Kanro Soy Sauce craftsman about the history and production of the soy sauce.
---
Uninhabited Island Exploration and Sea Cruising
Have Fun on an Uninhabited Island in the Seto Inland Sea in Yamaguchi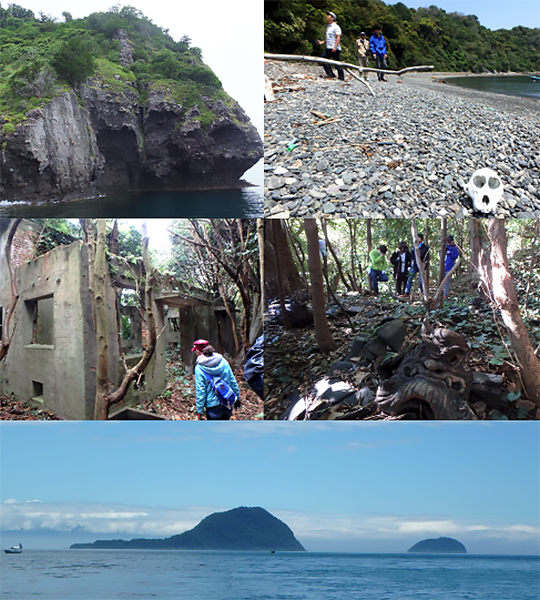 Among the over 700 islands of the Seto Inland Sea, there are many uninhabited islands. One of those islands, Ominase Island, had people living on it until 60 years ago. With a trained guide in the history and nature of the island, journey through the island and hike to discover the remains of old houses and WWII ruins.
Residential and War Building Remains –
Learn about the harsh island lifestyle and atrocities of war while visiting the remains of Ominase Island. While peering out at the faraway lands and islands, think about the people that used to live on this island.
Ominase Hiking –
Hiking through the territory of the Islands only residents, the Japanese macaques (monkeys). Breath in the atmosphere of nature and life which hasn't been touch by humans for 60 years.
Cruising on the Sea –
Cruise along the sea full of coral and view the vast scenery with traces of what was left behind from volcanic activity of the Setouchi Volcanic Belt 13 million years ago, such as Ominase island.
---
A Soothing Trip of Yamaguchi – Hagi Okan and a Japanese Garden
1-day Tour Connecting Hagi and Yamaguchi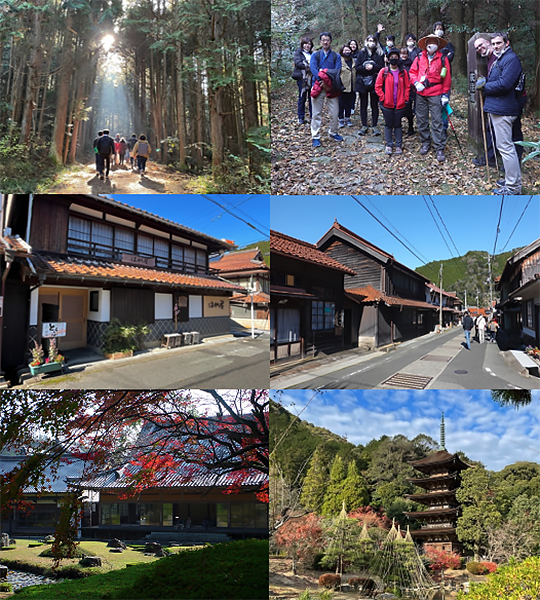 Your day starts from Hagi and after walking along the popular history road Hagi Okan, finishes at Yuda Onsen in Yamaguchi City. This 1-day tour is loaded with history, nature, power spots, and many more great things of Japan.
Walk Along Hagi Okan –
Hagi Okan, a road of historic importance, was built in the 1600s as a road for high-ranking figures to travel to and from Edo (Tokyo). Together with an English guide, walk along this mountain road from Akiragi to Sasanami while thinking of the great warriors and people that once traversed this path.
Sesshu Garden –
A beautiful Japanese rock garden full of Zen. Feel the world of Zen while sitting in the inner temple. After walking through the large garden, enjoy some matcha green tea and a Japanese sweets with it.
Rurikoji Temple –
Visit the 5-storied pagoda of Rurikoji Temple, which is a national treasure and considered one of the most beautiful pagodas in Japan. Each season offers different scenery such as plum and cherry blossoms, autumn leaves, a blanket of snow, and more, making it a loved location of the locals.
---
Hagi Furusato Cycling
Sake Themed Tour in Yamaguchi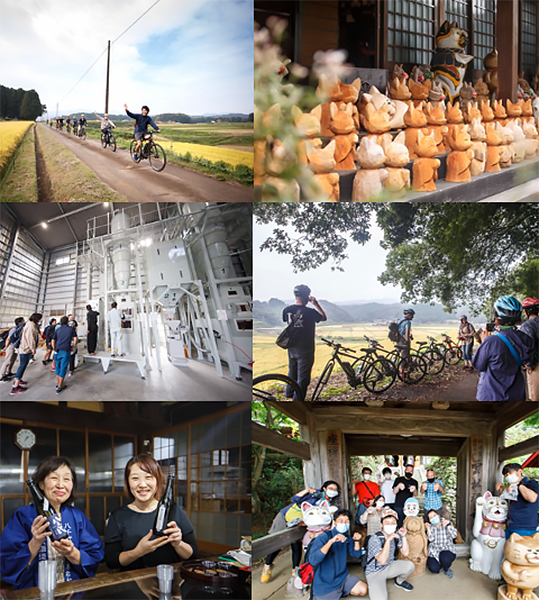 LeiA guided cycling tour around a beautiful countryside town that introduces locations that cannot usually be accessed. Hear the "Made in Hagi" story which introduces local sake, the rice and water ingredients, and methods of sake production.
Guided Tour –
Feel at ease while you "see," "hear," "touch," and "taste" on this fun tour. The meal is full of local ingredients such as Mutsumi pork and sale-lees from Yachiyo Shuzo. You can also try Mutsumi sake rice, as well.
Sake Production Story from Step 1 –
Start in the rice fields with an explanation of the sake rice and visit a brewery where the rice is polished. Then at a sake factory, hear how sake is actually made while seeing it firsthand. You'll even have special access to the inside of the brewery that visitors are usually not allowed to enter. Experience the taste of water used and sake lees.
E-Bike –
All the bikes are from the manufacturer, Giant, and provide a safe and comfortable ride. There are low seat bikes starting at 145cm available, as well.
---
Food and Nature Around Nagato and Mukatsuku Peninsula
Feel a Sustainable Life in Yamaguchi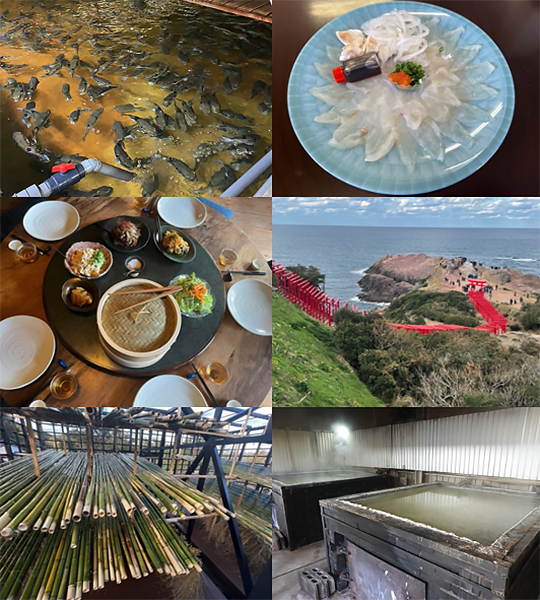 This tour revolves around 2 people with careers in Tokyo who decided to return to their hometown, Nagato, and start a new life. One contributes to developing the local fishing industry and outlining stable production and supply. The other enjoys life at it simplest, farm, eat, and play while living of nature.
Blowfish Breeding Farm –
A fish farm that includes blowfish, flounder, and the rare ocean eel. Hear about the techniques and skills used to breed in sea water while observing places not usually accessed by the general public. You're sure to feel the passion of the young workers of the local sustainable fisheries industry.
Motonosumi Inari Shrine –
123 red torii gates line the path leading to the blue ocean. A wonderful scenery showing the beauty of Japan, this location was chosen as one of CNN's "Japan's 31 most beautiful places." Visit here on the way to Hyakusho-an of Yuya Bay.
Salt Factory and Healthy Vegetarian Lunch –
Hyakusho-an's concept starts with a self-sustaining lifestyle. After visiting a salt factory that uses a deep plowing technique rarely found in Japan, enjoy a vegetarian lunch full of homegrown seasonal vegetables.