Recently, a glowing review of one of Heartland Japan's private tours was published in Yamaguchi Prefecture's Abu town's community newspaper.
Our clients, a married couple from New Zealand, had been to Japan once before. Wishing to see a different side of Japan, they signed up for Heartland Japan's 'Hagi and Tsuwano Walking Tour'. Then, Heartland Japan then created a customized private tour to match their personal interests and desires.
During their private tour, the couple visited a small fishing village in Yamaguchi Prefecture's San'in area. This area is rarely visited by foreign tourists, so our clients were warmly welcomed by the friendly locals. As a result, the locals' enthusiasm helped to make the trip extra special.
Heartland Japan are passionate about providing each and every client with a unique and enjoyable experience. Therefore, it is a pleasure for us to read such a happy and satisfied review of one of our customized tours.
You can read the customer's happy comments below:
My husband and I had an incredible week on a private tour in May. From the booking process to the end of the tour, we cannot recommend this trip highly enough. Being lucky enough to have private tours of soy sauce factories, sake producers, blacksmiths and being able to meet with the owners, executives and their families enabled us to have incredibly informative discussions an gave us great insight and understanding into the effect of depopulation on rural Japan and the desire these passionate people have to revitalise their region. Being greeted with a bunch of home grown flowers in the colours of the Japanese flag by the mother of our bright and breezy local guide Naoko before heading out on her grandfather's fishing boat, followed by abalone and other fish on an open fire shows the thoughtfulness and consideration of these beautiful locals. The food was incredible, the passion and gentleness of the people, their willingness to share their time and culture, the tea ceremonies, the onsens, the temples, shrines, pagodas, camellia forest, kagura performance. If you are looking for an "off the beaten track" experience with people who are real and passionate and who love their land, this trip is priceless. Please feel free to contact me if you have any queries.

– Charmian Hayes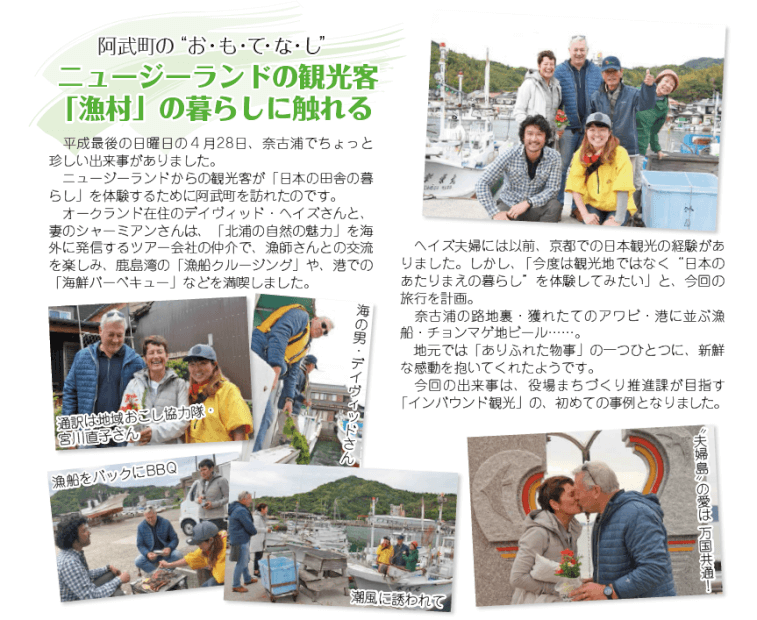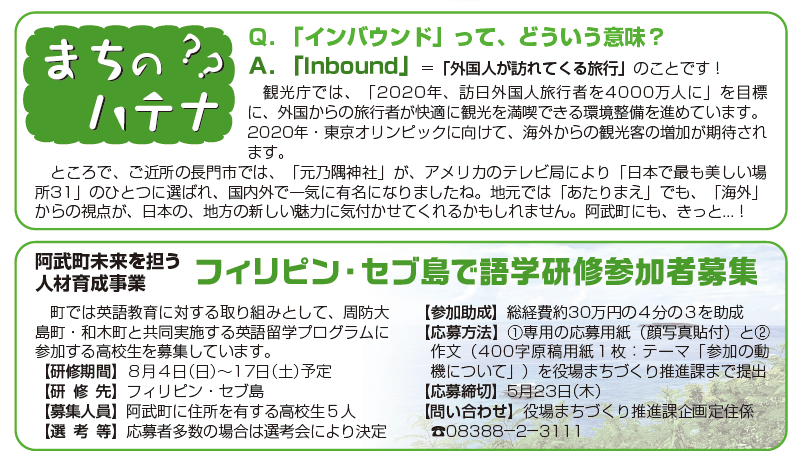 Article translation:
"New Zealand Tourists Experience Life in a Fishing Village"
On the last Sunday of the Heisei Era, a slightly unusual event occurred. New Zealanders came to Abu town to get a taste of life in Japan's countryside. 
David and Charmian Hayes, from Auckland, were able to experience the beauty of Kitaura's natural attractions, and interact with local fisherman with the assistance of a tour company. They enjoyed fishing boat cruising and a seafood BBQ.
The Hayes couple had previously experienced sightseeing in Kyoto, but this time they organised their trip with a view to see 'everyday life in Japan, not just sightseeing'. 
Fishing in the Nakoura waterways, freshly caught abalone, rows of docked boats, local draft beer...
It seems that they were impressed and excited by what we consider to be common, everyday things.
It was the first case that this town experienced in aspiring to increase inbound tourism.