A unique location in the Boso Peninsula, Mount Nokogiriyama stands proud and imposing above the rich green blanket of forestry that cloaks rural Chiba.
Despite the mountain's intimidating title (鋸山 'Nokogiriyama' means 'Sawtooth Mountain') and its curiously-named Jigoku Nozoki (地獄覗き, View of Hell) Viewpoint, the mountain is actually a relatively simple hike, with the extra option of reaching the top directly via the Nokogiriyama Ropeway (930 yen for a return ticket). Upon reaching the mountain's summit, visitors are treated to astounding panoramic views of the surrounding woodland, leading down to the peninsula's dramatic coastline.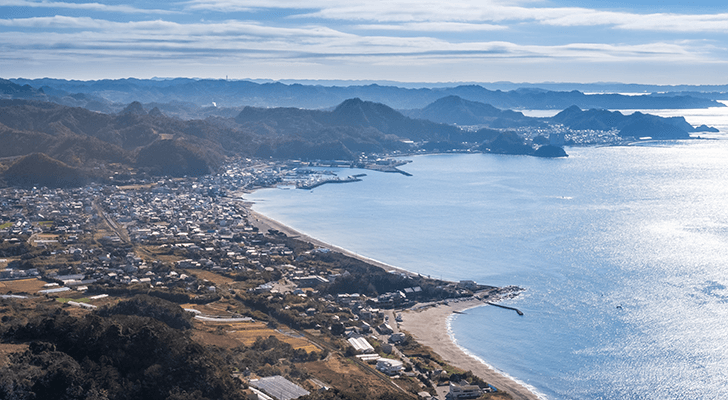 Visitors to Nokogiriyama are invited to soak in the views as they enjoy a hearty meal prepared by staff at the ropeway's in-built restaurant (offering meals to suit every pallet, including a vegan-friendly vegetable curry, in keeping with Buddhist Shojin Ryori cuisine and containing no animal products) before taking the brief 10 minute walk across the mountain to visit Nihon Dera Temple, a Soto Zen Buddhist temple dating back over 1300 years and considered one of the oldest worship sites within the Kanto Region.
Nihon Dera's giant, 31 meter tall statue of the healing Yakushi Buddha holding a pot of medicine is easily the most well-known of the temple's features, but visitors should also take the time to visit the 30 meter tall Hyaku-Shaku Kannon, carved into a stone cliff below Jigoku Nozoki viewpoint in 1966 in memory of all those who have died as a result of war, sickness or accident. Another 1500 statues of Rakan (Buddhist Disciples) are also placed in various locations across the mountain, but unfortunately many were beheaded during the Meiji Restoration's brief anti-Buddhism movement, and are yet to be repaired.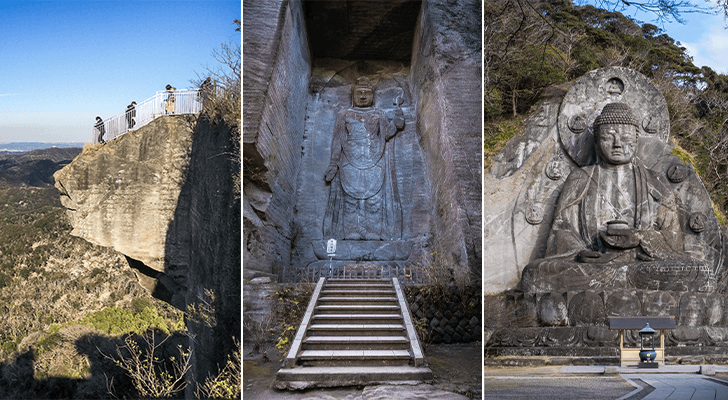 While Nokogiriyama's remote location means that getting there can require a bit of advance planning, the small amount of visitors helps to maintain the mountain's peaceful and sacred energies; the mountain truly feels a world away from the busy, commercial streets of Tokyo.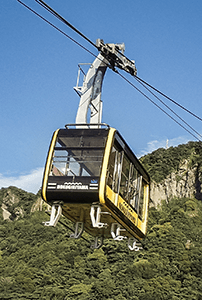 How to get there:
・Travelers wishing to visit Nokogiriyama from Tokyo should board the Keio or Sobu Line for either Soga or Kimitsu until the final stop.
・Transfer to the JR Uchibo Line to Takeya, getting off at Hamakanaya Station.
・From Hamakanaya, the ropeway is just a brief walk away.
・The train fare for the entire journey costs just under 2000 yen one way.